German propulsion specialist MTU Aero Engines is cautiously optimistic of a recovery in commercial aerospace this year, as it revealed preliminary results for 2020 that saw both revenue and profit hammered by the effects of the pandemic.
Revenue fell by 14%, to €3.9 billion ($4.7 billion), down from €4.6 billion in 2019, while operating profit dropped to €416 million from €757 million.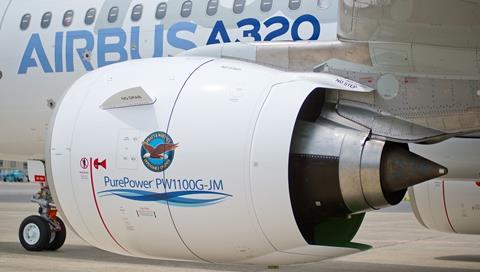 Although the military engines business held up well, rising by 5%, to €483 million – driven by MTU's participation in the EuroJet EJ200 programme for the Eurofighter Typhoon – revenues in commercial engines fell by 32%, to €1 billion from €1.5 billion a year earlier.
Operating profit was €280 million in 2020, compared with €496 million in 2019.
"The revenue figures reflect production cuts at Airbus and Boeing and lower aircraft deliveries," says MTU chief executive Reiner Winkler. The manufacturer's biggest revenue generators are its contribution to the International Aero Engines V2500 and Pratt & Whitney PW1100G for the Airbus A320 and A320neo, respectively.
In addition, MTU has written down its investment in the GE Aviation GE9X engine for the Boeing 777X based on the airframer's decision to delay service entry until 2023 and also cut its forecast of overall sales for the programme.
Revenue from commercial maintenance work also fell by 7%, to €2.5 billion from €2.7 billion in 2019. Earnings dropped to €136 million, down from €261 million a year earlier.
But that segment is expected to lead the recovery in 2021, with revenue forecast to increase by 15-20%.
In addition, commercial engines revenue is now anticipated to rise in 2021, whereas this was previously predicted to be stable this year. Turnover in the military segment is also expected to grow slightly.
Overall, MTU expects revenue to be between €4.2 and €4.6 billion, with an adjusted EBIT margin should of 9.5-10.5%.
"Our swift and decisive action in the face of the coronavirus crisis has paid off. We managed the challenges due to the coronavirus pandemic well and posted respectable earnings in 2020 despite the crisis," says Winkler.
"Experts anticipate the recovery of our sector to begin in 2021. That should be reflected in a slight upward trend in our business figures."
Backlog at the end of 2020 stood at €18.6 billion, down from €19.8 billion at end-2019. "That is still a high level as we only registered postponements and very few cancellations," says Winkler. The backlog is equivalent to four years of full-rate production.