Construction work has begun at OGMA's Alverca site near Lisbon, Portugal on a new facility to maintain Pratt & Whitney (P&W) geared turbofan (GTF) engines.
Due to open in the second quarter of 2024, its two build and check lines will initially be tasked with maintaining PW1100Gs used to power Airbus A320neo-family narrowbodies. The step forms part of an effort by P&W to increase global GTF maintenance capacity, which also currently includes expanding its own capacity in Columbus, Georgia, and PW1900G capability to the GTF MRO network facility in Poland this year.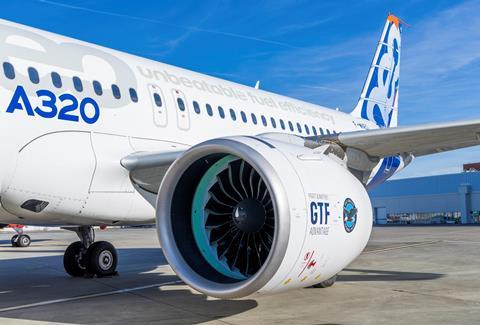 OGMA's new facility will slowly ramp up activity, from a starting level of around 25 engines per year. This is expected to increase to around 200 units annually after six or seven years of operation, the company says.
It notes that as the PW1100G is a larger and more complex engine than the variety of Rolls-Royce products it already provides MRO support for in Alverca, each example will initially take around 100 days to prepare. However, its target is to eventually reduce this to roughly 65 days.
"In April 2024 we will be ready to induct the first [PW1100G] engine – this will change OGMA," says Paulo Monginho, the Portuguese company's chief executive. He notes that the investment at its site, supported by the MRO specialist's majority owner Embraer, is worth €74 million ($79.5 million).
Current plans call for its facility to in 2025 add maintenance of the PW1900G, which powers Embraer's 190-E2 and 195-E2 regional jets, and potentially also later the A220's PW1500G. OGMA is already an authorised maintenance provider for the PW1100G, and Monginho says: "We are also working with P&W to add complex repairs".
"After the industrialisation of the [Embraer] KC-390 a few years ago, this is by far the most important project that we have taken on," Monginho said on 25 May. OGMA's aerostructures unit manufactures and assembles major parts for the Brazilian-built tactical transport, including for its main fuselage barrel.
Meanwhile, Monginho notes that OGMA has already recovered its business to pre-pandemic levels – its net revenue of more than $1.2 billion in 2022 was up 12% from the previous year, and its backlog climbed by 17.5%.
"Services and support is a healthy business, with a strong backlog," he says. "We see 2023 as a very positive year for OGMA. We will prepare the company for future growth."
This article has been edited to clarify that OGMA will be maintaining rather than assembling PW1100G engines.