About 10% of aircraft powered by Pratt & Whitney PW1000G geared turbofans (GTFs) have recently been off service amid a surge in durability problems that the engine maker insists it is addressing.
"10% of our operational fleet [are] out service, waiting engines," P&W president Shane Eddy said on 21 June at the Paris air show.
The out-of-service rate peaked during the first half of this year and is receding, he adds. "We're returning now, more engines to the fleet than are being removed… We see it trending down through the end of the year. Full recovery is going to take some time."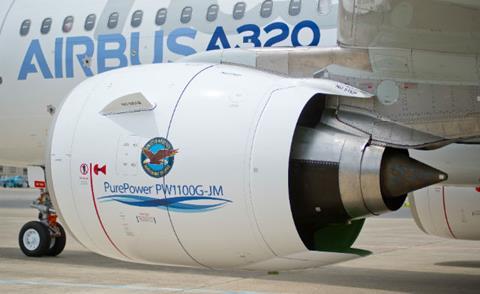 Eddy's comments come in response to questions about the scope of durability issues affecting P&W's geared turbofans, including the most-prevalent of the family, the PW1100G, which powers Airbus A320neo-family jets.
Eddy says about three-quarters of jets with GTFs are operated in "cooler environments", and that unscheduled removals of those turbofans has been "in line with our expectations".
"At the same time, the operators [in] hotter and sandier environments are seeing shorter intervals, lower time-on-wing," Eddy says.
Such issues have recently forced some airlines to ground significant numbers of Airbus A320neo-family jets. Indian airline Go First recently sued P&W, claiming it has needed to replace 510 PW1100Gs, forcing the grounding of half its fleet and prompting it to halt all operations.
But many other airlines, including those in North America and Europe, have reported PW1000G durability problems.
Globally, airlines have 868 PW1000G-powered aircraft in service, and 141 in storage, including Embraer E-Jet E2s, A220s and A320-family aircraft, according to Cirium fleets data.
P&W is not totally alone, as GE Aerospace has reported some durability issues with Leap turbofans, produced by GE-Safran Aircraft Engines joint venture CFM International.
Eddy says the high rate of out-of-service PW1000Gs reflects "gaps in our industrial performance", meaning in its supply chain. He stresses that GTFs, when in service, are performing as expected.
The company has responded by introducing engine upgrades, including a "Block D" configuration released in late 2020 that "allows double the [engine] removal interval of the prior configuration", Eddy says.
P&W plans in 2024 and 2025 to release more improvements aimed at "optimising the cooling and coating performance in the hot section". That is what "closes the gap to expectation", the P&W president adds.
Airlines have also complained that P&W lacks enough maintenance capacity to fix affected engines, nor enough spare powerplants.
But Eddy says P&W "has the capacity in place today to support the needs of the fleet for repair and overhaul", and that it plans to double its maintenance capacity by 2028.