Commercial aviation should not bet solely on liquid hydrogen as a future fuel for medium- or long-haul flights given the significant hurdles that need to be overcome before it can enter widespread service, according to Rolls-Royce's outgoing technical chief.
Paul Stein, who steps down from the role of chief technology officer in March next year, says that while power from liquid hydrogen combustion is "exciting", the industry needs to "recognise that we are facing a number of maturity steps that we need to go through before we can bring it to reality.
"We are working hard to go through those maturity steps and there is some hope that we will find a path through them. But right now, when the technology becomes mature is not clear," he said, speaking at a GKN-organised event on sustainable aviation on 18 October.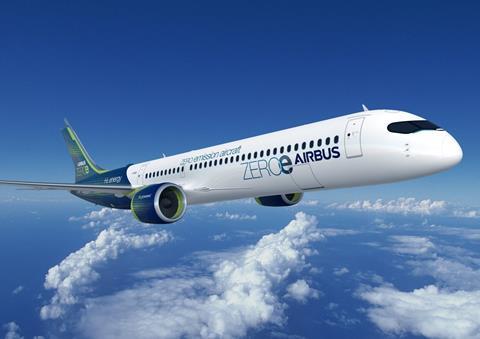 Airbus considers liquid hydrogen as a strong candidate to power the zero-emission airliner it intends to bring to market by 2035 with chief executive Guilluame Faury noting recently that given its energy density "hydrogen is made for aviation".
Stein says that "Airbus is a great company with great engineering expertise", but cautions that it "will have to work very hard to find a way through all those maturity steps by 2035".
"It's a moonshot – it's a challenge. And we are working with them to try and achieve that challenge. It's not a walk in the park but it's not impossible. Given the right resources it might be achievable," he says.
However, he is keen not to discourage the research efforts: "I completely believe it is quite reasonable to set an ambitious challenge and aviation needs some ambitious and creative thinking," he says.
Compressed gaseous hydrogen powering fuel cells for shorter-range regional or sub-regional flights "offers a lot of promise", Stein adds, noting that aviation can also benefit from the hydrogen production and infrastructure designed to support heavy road vehicles.
However, he points to IATA's recently published roadmap to reach net-zero emissions by 2050, which calculates that disruptive technologies could contribute 13% of the total carbon dioxide reduction required; sustainable aviation fuel (SAF) contributes 65% of the total, according to IATA's forecast.
"We know that SAF and more efficient aircraft and engines are going to be needed for medium- and long-haul routes and I firmly believe that forms the bulk of aviation decarbonisation," says Stein.
Stein says that more efficient engines and airframes on the next generation of aircraft will be respectively 20% and 10% more efficient than those on current-generation jets.