Airlines will need to remove hundreds of Pratt & Whitney PW1100G geared turbofan (GTF) engines from the wings of Airbus A320neo-family jets by the end of 2024 to inspect for defective high-pressure turbine and compressor discs.
P&W parent company RTX revealed the scope of the issue on 11 September, which it says will cost it over $3 billion. It centres on a previously disclosed defect involving a "rare condition in powdered metal used to manufacture certain engine parts".
The issue is sure to further disrupt an airline industry already struggling with shortages of engines and maintenance capacity.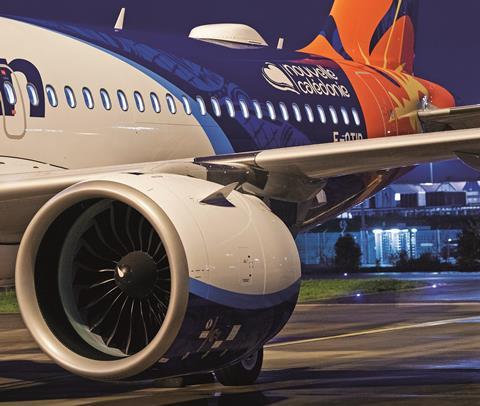 RTX says 600-700 PW1100G engines must be removed from A320neos and inspected between now and 2026. That figure is "beyond [P&W's] shop visit forecast entering 2023". Of those inspections, the "majority" will be completed this year and early next.
RTX "expects a significant increase in aircraft-on-ground levels for the GTF powered A320[neo] fleet throughout 2024- 2026", it adds.
MTU Aero Engines – which owns 18% of the GTF programme – says the problem will result in "an average of 350 aircraft-on-ground in the period 2024 to 2026".
RTX says it will take a $3.5 billion charge against its third-quarter results due to the issue. MTU expects the problem will cost it €1 billion ($1.08 billion) in lost revenue this fiscal year.
Neither Airbus nor P&W responded to requests for comment.
P&W discovered the issue in 2020 when an in-service International Aero Engines (IAE) V2500 engine suffered a blade failure. P&W, which is the majority owner of IAE, makes V2500 and PW1100G blades using the same process.
Since then, the engine maker and US Federal Aviation Administration had taken piecemeal steps to address the problem in various groups of V2500s and PW1100Gs.
But in August, RTX said many more PW1100Gs – some 1,200 – might have defective components. It also said those engines would need to be removed over the next year. P&W does explain how the 1,200 figure differs from its latest estimate of 600-700 engines.
"We are focused on addressing the challenges arising from the powder metal manufacturing issue," says RTX chief executive Greg Hayes. "We recognise this is an extremely difficult situation for our customers, and we are proactively taking steps to support and mitigate the operational impact to them."
RTX says P&W on 4 August notified customers of an "initial" group of in-service PW1100Gs that must be removed from aircraft and inspected no later than 15 September.
The company developed a separate plan to address the defect in a broader group of PW1100Gs. Under that plan, operators will need to inspect the discs in affected engines every 2,800-3,800 flight cycles, and replace components every 5,000-7,000 cycles.
P&W intends during the next 60 days to issue one or more service bulletins providing additional detail.
Still unclear, however, is the degree to which other P&W engines might be affected. The manufacturer is now evaluating the scope of the problem, but it believes other powerplants will be "far less impacted based on existing inspections, lower utilisation profiles and/or existing maintenance interviews".
RTX says the ultimate impact on the in-service fleet of PW1100G-powered A320neo-family jets "is subject to various data-driven assumptions" related to parts availability, turnaround times and the amount of work required.
"Pratt & Whitney is taking action to increase industrial output and shop visit capacity, as well as other measures, to mitigate the potential impact of this matter," RTX says.
The issue is not keeping P&W from delivering new engines or engine components.
RTX says its planned $3.5 billion third-quarter charge reflects P&W's 51% ownership stake in the GTF programme. The US aerospace conglomerate expects the problem will erase $3-3.5 billion in profit over "several years".