A recent letter from Pratt & Whitney (P&W) to Indian airline Go First reveals more detail about the tight supply of PW1100G spare engines and related equipment.
Signed by P&W commercial engines president Rick Deurloo, the 3 April letter says P&W and its leasing partners globally had a total pool of "295 spare leased engines".
The letter relates to availability of PW1100G turbofans, which power Airbus A320neo-family jets.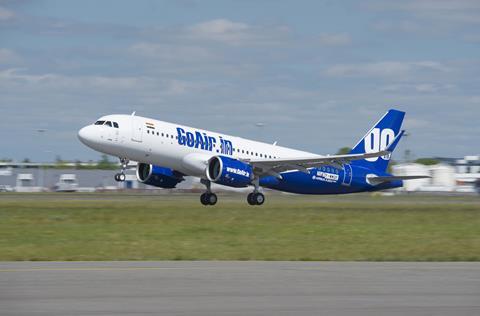 All of those 295 powerplants, however, all are either spoken for by airlines or unavailable because they need maintenance.
"As of this letter, 193 of these spare leased engines are either under lease to or in possession of customers," says Deurloo's letter. "The remaining 102 spare leased engines are currently unserviceable and either undergoing or in queue for maintenance."
The letter also notes that P&W does not have enough engine "stands" to fulfill a request from financially struggling Go First, which on 2 May temporarily halted flights and reportedly filed for bankruptcy protection.
"Due to demand, Pratt & Whitney does not currently have 20 available engine stands… to dispatch to Go First but will take reasonable steps to locate engine stands," Deurloo's letter says.
The airline included the letter, addressed to Go First chief executive Kaushik Khona, as part of its 28 April lawsuit filed against P&W in US District Court for the District of Delaware. Go First is asking a US judge to force P&W to comply with provisions in a March arbitration decision.
The arbitrator called for P&W to repair 64 of Go First's PW1100Gs and "take all reasonable steps" to deliver to Go First some 80 spare engines this year. Go First filed the arbitration claim on grounds its PW1100Gs were suffering widespread failures and that P&W was not fulfilling maintenance obligations.
P&W declines to comment about the suit.
The dispute comes amid broad supply chain shortages that have left engine makers – including P&W competitor CFM International – struggling to ramp production.
Deurloo's letter reveals a lack of slack in the supply chain, citing unavailability of both spare engines and heavy engine maintenance capacity.
"Unfortunately… no spare leased engines are presently available from Pratt & Whitney or its affiliates," the letter says.

More spare engines will become available following completion of maintenance, but those are "already committed to other customers", Deurloo tells Go First.
"Although Pratt & Whitney does not yet have a spare leased engines delivery schedule for Go First, it is working diligently to develop one as it receives more information concerning the readiness and availability of spare leased engines," Deurloo adds.
Of Go First's 64 PW1100Gs needing repair, the airline said it held 44 and P&W had 20.
In his letter, Deurloo says P&W ended a maintenance "hold" on Go First engines in P&W's possession. That hold had resulted from Go First's "default for failure to pay", the letter says.
Now, P&W must find available maintenance slots. It "is developing an induction schedule for remaining Go First engines, with inductions scheduled beginning with the first such available induction slots that have not been previously committed to other customers," Deurloo writes.
As for the other 44 PW1100Gs needing maintenance, Go First had asked P&W to send engine stands required for shipping the turbofans to maintenance shops, court papers say.
But Deurloo's letter says not enough stands are available.
Go First did not respond to a request for comment.
P&W tells FlightGlobal it "is complying with the March 2023 arbitration ruling", adding that Go First "has a lengthy history of missing its financial obligations to Pratt."

P&W declines to comment about the litigation in US court and says it is working on PW1100G durability improvements.