Modifications being made by Pratt & Whitney to its PW1100G geared turbofan (GTF) partly reflect an effort by the engine maker to optimise the powerplant for Airbus's in-development, longer-range A321XLR.
That is according to P&W executives, who say the additional thrust planned for the "GTF Advantage" will be particularly beneficial for the heavier Airbus jet, which the European airframer aims to bring to market in late 2023.
"The 8% at high altitudes… has the most applicability on the XLR," P&W senior vice-president of the GTF programme Tom Pelland says on 2 December.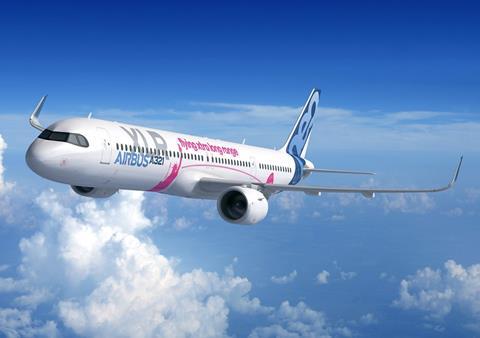 The GTF Advantage's other benefits – namely a cooler core, improved durability and reduced fuel consumption – will benefit operators of all A320neo-family jets, he adds.
Airbus could not immediately be reached for comment.
P&W revealed on 2 December it is updating the PW1100G to create the GTF Advantage, an engine it says will generate 4% more thrust at sea level and 8% more at hot and high airports.
The upgraded turbofan will also deliver 1% more fuel efficiency, P&W says. The Connecticut company's engineers will achieve the gains through tweaks to the engine's core.
The GTF Advantage will replace P&W's current-generation PW1100G as its production-standard engine for all Airbus A320neo-family jets. Airbus also offers A320neo-family aircraft with CFM International Leap-1A turbofans.
P&W aims to begin delivering GTF Advantages to Airbus in the fourth quarter of 2023. It will deliver both the current and new variants until transitioning in the fourth quarter of 2025 to only delivering GTF Advantages, says P&W chief customer officer Rick Deurloo.
In developing the A321XLR, Airbus is equipping the jet with a rear-centre fuel tank, allowing for 4,700nm (8,700km) of range but also resulting in an increased take-off weight (MTOW) of 101t. That compares to 4,000nm of range for the 97t A321LR.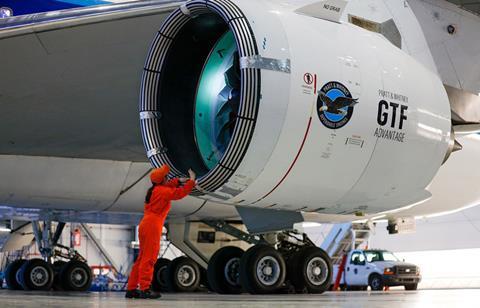 Deurloo says P&W's early discussions with Airbus about GTF improvements focused on the goal of reducing fuel burn. The move was initially to be a "pure fuel-burn play", he says.
"Then, [Airbus] started focusing on and developing an XLR. They said… 'How can we optimise, to get maybe a little more thrust, and still get some of that fuel burn?… Can you guys look at a mix?" Deurloo says.
The result is the GTF Advantage, a programme P&W says is already well into ground and flight testing. The engine will produce 34,000lb (151kN) of thrust. P&W's fact sheet says the current PW1100G produces 33,000lb of thrust.
The additional thrust, especially at hot and high airports – places like Mexico City and Bogota – will give Airbus jets more range when carrying heavy payloads, says Pelland. "What the GTF Advantage will provide is… incremental payload range."
"You have more thrust to get off the runway," he adds. "Out of a hot and high airport like Mexico City, it will extend the range about 700nm."
Additional range could also enable airlines to operate transatlantic routes that extend farther east into Europe or farther west into North America, says Pelland.
ADJUSTING THE CORE
"It's a scaled-up core in some parts… There are certain new elements of the core," P&W chief engineer Geoff Hunt says when asked how P&W tweaked the GTF Advantage.
"We increased the core flow, which requires some adjustments in the [low-pressure] compressor," he adds. "There's more air going through the core. That's how you get the improvement in thrust."
Engineers also tweaked the "active-clearance control" – a system that adjusts precise clearances between engine blades and seals. That gap should be as small as possible, but maintaining a consistent minimal gap becomes difficult as engines heat and spin, says Hunt.
"When you spin a blade, you've got centrifugal force pulling it out. You've got thermal force," he says. Cases surrounding the blades are subject to a "different temperature environment" and also change size.
The active-clearance control system helps keep the gap constant, partly through cooling the cases with cold air, Hunt says.