The coronavirus pandemic has been tough on Pratt & Whitney's commercial engine business in the Asia-Pacific, and the company's sales leader for the region says the outlook hinges on vaccines.
P&W's airline customers in the Asia-Pacific have had an extremely challenging 2020 owing to Covid-19, particularly carriers with big international networks.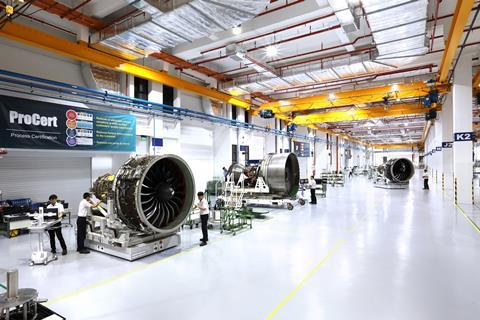 "[Covid-19] affected their operations and affected maintenance plans, it affected us because we generate revenue when our customers fly," says Mary Ellen Jones, vice president Asia-Pacific sales at P&W.
"Delivery plans were disrupted as a number of airlines looked to put off their airplane deliveries and negotiations with Airbus."
One advantage that P&W has as the market recovers, however, is its weighting towards narrowbody aircraft, in the form of its PW1000 series and V2500 engines for the A320 family. Narrowbody jets have fared considerably better than widebody jets throughout the pandemic, and are set to lead the recovery in air traffic.
Still, the impact has been severe. On a global basis, P&W, a unit of Raytheon Technologies, swung to a loss of $546 million in 2020, compared with a profit of $426 million a year earlier.
The declines translated, in the fourth quarter, to a 46% fall in P&W's revenue from sales of equipment. The engine maker's commercial aftermarket revenue slipped 32% year-on-year in the same quarter.
This made for a year of challenging discussions with customers.
"It's been a steady stream of communication, renegotiation, changes to contracts, and changes to maintenance plans," says Jones. "But [all the while] knowing that our customers will come out of it…we want to make sure that we are here for them, as we have been throughout the year, and now it is heartening to see some progress happening."
Based in Connecticut, Jones is a keen observer of vaccination programmes throughout the Asia-Pacific and how these will impact the air travel recovery. Her area of responsibility includes the entire region from Japan to New Zealand, excluding only China and India.
"Vaccines are taking hold in some places and domestic traffic is picking up…so we're certainly seeing signs of hope," says Jones. She also has high hopes for the Trans-Tasman travel bubble that is set to open between Australia and New Zealand on 19 April.
She warns, however, that while there are definite signs of progress, there are frequent pullbacks when coronavirus cases spike in specific countries. She notes that periodic Covid-19 resurgences have hurt air traffic in markets including Australia, New Zealand, the Philippines, Vietnam, and South Korea.
Yet, P&W has observed that airlines throughout the region are bringing more aircraft back into service, and gaining confidence that they will generate sufficient flight hours to warrant the scheduling of engine maintenance.
"We're seeing all of these shoots, it just hasn't reached a real steady state across the region yet," says Jones.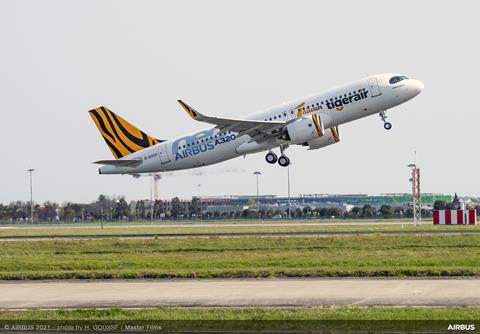 Jones offers a few positive stories that have punctuated the gloom. With some pride, she points out that it was a Singapore Airlines Boeing 747-400F with PW4056 engines that delivered the country's first batch of Covid-19 vaccines in December 2020. This was also the first batch of the Pfizer-BioNTech vaccine to reach Asia.
More recently, Tigerair Taiwan took delivery of its first of 15 Airbus A320neos. Its fleet will be powered by the PW1100G.
Jones is also optimistic about Pratt's legacy A320 powerplant, the V2500, noting that in-service numbers are holding up well, with airlines continuing to use it and lessors able to place V2500-powered A320s. In addition, there is continued demand for V2500 shop visits. The travails of the Boeing 737 Max may also have created an opening for V2500-powered A320s.
"If the customer is going to bring their [V2500] in for a shop visit, obviously they are going to keep flying it for a while," says Jones.
Another challenge the company has faced regionally relates to the PW4077 that powers some 777-200s. The engine variant has come under increased scrutiny after a United Airlines 777-200 powered by the PW4077 suffered a major failure after taking off from Denver International Airport in February, shedding debris over a residential area.
In early April, the Federal Aviation Administration (FAA) issued an airworthiness directive, requiring airlines to inspect and replace "air sealing ring" assemblies within Pratt & Whitney PW4000 low-pressure turbine [LPT] cases.
A day prior to the FAA directive, Japan Airlines retired its PW4000-powered 777s, bringing forward the planned retirement date by one year from March 2022. Other PW4000-powered 777 operators in the region are All Nippon Airways, Asiana Airlines, Korean Air, and Jin Air. For now, the fleet remains on the ground.
"It's disappointing to us that the airplanes are not able to fly right now," says Jones. "We continue to work closely with [airlines] to perform the fan blade inspections and whatever other support they need to keep that fleet flying."
As for the longer term recovery of the broader aviation market, Jones says it greatly depends on the rollout of vaccines in the region. She notes that the USA is enjoying a domestic recovery amid its successful vaccine rollout, and that US airlines have put a big effort into showing passengers that flying is safe.
"We're looking forward to that spreading worldwide, and certainly to the Asia-Pacific. We know our customers are very anxious for that too."