Pratt & Whitney's (P&W's) second-quarter profit slipped 24% year-on-year to $230 million largely because a "customer insolvency" forced the company to take a $181 million charge.
Neither the Connecticut engine maker nor parent RTX have named the customer, but Indian airline Go First, which held substantial PW1100G orders, filed for insolvency in May, citing troubles with the turbofans.
P&W's $230 million second-quarter "operating profit included the impact of a charge related to a customer insolvency of $181 million", RTX reported on 25 July.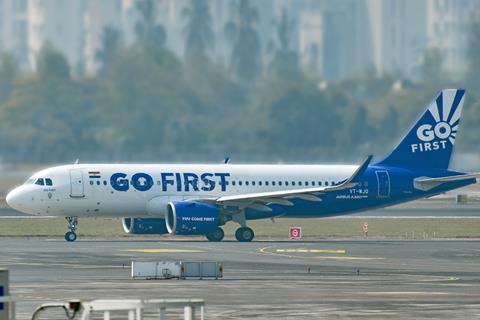 P&W's profit would have been $436 million if not for that one-time charge and other non-recurring items, it adds.
RTX declines to specify the customer.
But P&W has been in headlines recently due to a dispute with Go First. The Mumbai airline halted flights in May, and filed for insolvency protection, alleging that widespread failures of PW1100G turbofans forced it to ground most of its Airbus A320neo-family fleet.
Go First had also sued P&W in a US federal court in May, alleging that the engine company failed to fix or replace engines as required under maintenance contracts. P&W has declined to comment.
Despite the $181 million hiccup, RTX reports strong demand last quarter for P&W's products. The engine company generated $5.7 billion in second-quarter revenue, up 15% year on year, with sales of commercial aerospace aftermarket services up 26%, and sales of new-production equipment up 22%, year on year.
During the quarter, P&W delivered 191 PW1100Gs and other large commercial aircraft engines – 24 more than during the prior quarter.
Despite those improvements, RTX disclosed on 25 July that it is recalling some 1,200 PW1100Gs for inspections due to potentially defective high-pressure turbine disks. The issue will shave about $500 million of RTX's 2023 profit, it said.
RTX also on 25 July reported a strong quarter for subsidiary Collins Aerospace, which turned an $821 million profit during the period, up 50% year on year. Collins' sales jumped 17% year on year to $5.9 billion.
RTX chief executive Greg Hayes says airline traffic has now returned to about 95% of 2019 levels.
"Long haul international travel, which lagged the recovery, is showing strong growth," evidence of "increasing demand for widebody" aircraft, he says.
Corrected: Go First filed for insolvency in May 2023.