Pratt & Whitney thinks the aerospace industry might need a bit more time to achieve a broad goal of squeezing at least 20% more efficiency out of the next generation of narrowbody aircraft engines.
Executives at the Connecticut engine maker view that target as achievable, but likely not until between 2035 and 2040.
"We think that timing is moving to the right – 2035 or later, potentially," P&W president Shane Eddy said during the Paris air show. "The further it moves right, the more opportunity there is to bring technology into the equation."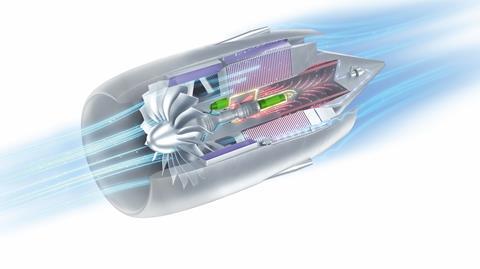 Airbus and Boeing are widely expected to begin developing new narrowbodies later this decade, for service entry around the mid-2035s.
Boeing executives have said their next jet must be at least 20% more efficient than the 737s it will replace – a goal that significantly depends on engine technologies.
Whether engine makers will be ready remains unclear.
"The capability to advance that technology for readiness in 2035 is perhaps a bit pushed," P&W chief sustainability officer Graham Webb adds. "We would see that phasing in… within the timeframe of 2035 to 2040."
The comments come as Raytheon-owned P&W and competitor CFM International pursue different strategies for achieving double-digit fuel-efficiency improvements from future engines.
CFM is developing an open-fan engine demonstrator under its RISE programme. Because open-fan designs lack nacelles, they are lighter than traditional turbofans and can have larger fans, meaning higher bypass ratios. CFM says its open-fan design "could be available by the mid-2030s".
By comparison, P&W is working under an EU-backed consortium to develop a version of its geared-turbofan engine equipped with hybrid-electric motors and water-enhanced technology (WET). Collins Aerospace is supplying electric motors for the project, while MTU Aero Engines is developing the WET system, which involves using exhaust-gas heat to vaporise water, which is injected into the combustor, improving efficiency.
"These are low [technology readiness level] technologies," Webb says. "There is a timeline to develop those, but its subject to the development ups and downs that inevitably occur."