Pratt & Whitney will perform the PW4000 thermal acoustic imaging (TAI) inspections required under the Federal Aviation Administration's recent emergency airworthiness directive (AD).
"The process requires the shipment of fan blades to Pratt & Whitney, where thermal acoustic imaging inspection will be used to confirm airworthiness," the engine maker says on 23 February. "Pratt & Whitney is coordinating all actions with Boeing, airline operators and regulators."
"The safe operation of the fleet is our top priority," the Connecticut engine maker adds.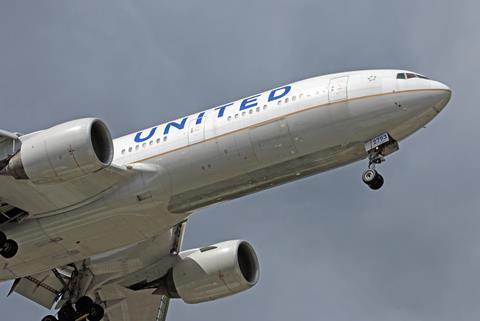 P&W does not provide additional information or immediately respond to a request for comment.
The FAA issued the emergency order on 23 February in response to the 20 February inflight failure of a PW4077 powering a United Airlines Boeing 777-200. The failure happened shortly after take-off from Denver. The pilots landed the jet back in Denver, with no injuries reported.
Metal fatigue in a fan blade likely resulted in the blade's failure, the NTSB has said.
The FAA's order grounded affected 777s by requiring their PW4000 fan blades be inspected to identify cracks before further flight.
Still unclear is the number of engines that airlines will chose to have inspected, considering the age of the airframes and the troubled state of the airline industry.
Globally, some 125 777s have affected engines, and those aircraft are between eight and 24 years old, according to Cirium fleets data. Only six airlines operate the type: All Nippon Airways, Asiana, Korean Air, Japan Airlines, Jin Air and United Airlines.
United says it is working to ensure its 52 affected 777s are airworthy but declines to provide additional details.