Pratt & Whitney (P&W) has determined that many more PW1100Gs might contain defective high-pressure turbine disks and therefore require accelerated removal and inspection.
The engine maker's parent RTX disclosed on 25 July that 1,200 of the engines will need to be returned to P&W over the next year for inspections that require the engines be taken off wings and partly disassembled.
The news marks another significant issue for an engine programme that suffered several recent durability problems. P&W has also struggled to keep up with maintenance and production demand.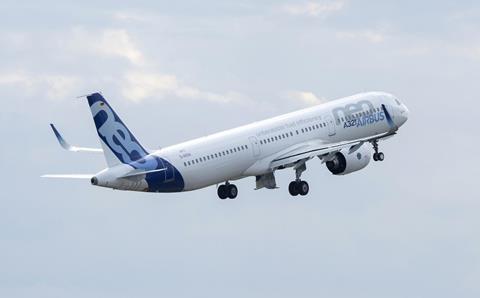 The new inspection requirements results from P&W using "contaminated" powered metal to produce some high-pressure turbine disks, RTX chief executive Greg Hayes says during the company's second-quarter earnings call on 25 July.
PW1100Gs power Airbus A320neo-family jets.
"It's not an existential problem to RTX. It's not even an existential problem to Pratt," Hayes says. "As we scaled up production of GTFs, [the quality issue] got away from us."
The company produces the powder internally at a facility in New York and processes the disks in Columbus, Georgia.
"Obviously, this is a disappointing development and will impact our customers," says RTX chief operating officer Chris Calio. "PW1100Gs will experience the most impact."
The issue will require at least 1,200 PW1100Gs undergo "inspections earlier than we expected", out of a total 3,000 engines, Hayes notes. "It's going to be expensive. We are going to make the airlines whole as a result of the disruption we are going to cause them."
Several airlines with PW1100G-powered Airbus jets did not respond to requests for comment.
RTX anticipates the problem will shave $500 million off its 2023 profitability.
The company expects about 200 in-service PW1100Gs will need to be removed from aircraft by mid-September for high-pressure turbine disk inspections. Another 1,000 engines will need to be checked "over the next nine to 12 months", Calio says. "Pratt is developing plans to optimise [and]… complete inspections as quickly as possible."
Calio adds that some affected PW1100Gs can be examined during already scheduled shop visits, but he does not specify how many. The "fallout rate" – meaning the number of disks actually requiring replacement – "is expected to be very low".
P&W will address the concern through a service bulletin. It assumes the Federal Aviation Administration will issue an airworthiness directives.
"The FAA is aware of the issue and is in contact with Pratt & Whitney and the affected US operators," the FAA says. "The agency will ensure that the appropriate steps are taken."
P&W discovered the concern in 2020 when an in-service International Aero Engines (IAE) V2500 engine suffered a blade failure. P&W, which co-owns IAE, makes V2500 and PW1100G blades using the same process. In 2020, a Vietnam Airlines' V2500 suffered an uncontained failure, though the event has not been confirmed as related.
"Pratt previously determined that a rare condition in powdered metal used to manufacture certain engine [parts] may reduce the life of those parts," Calio says.
In 2021, the FAA responded by ordering inspections of some V2500 high-pressure turbine disks, citing a 2020 failure. It has since also required some PW1100Gs be inspected for a similar defect.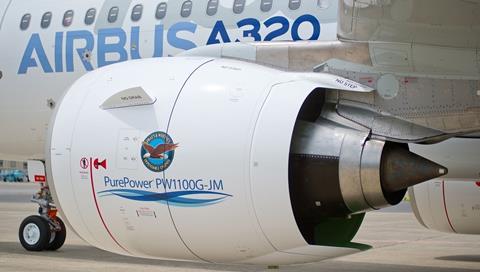 Hayes says P&W manufactured the defective disks between late 2015 and early 2021 and has since inspected some 3,000 engines (of all types) for the defect. "Those inspections yielded a very, very small fallout rate – less than 1%."
The company "until very recently" planned to inspect remaining affected PW1100Gs during scheduled engine maintenance.
But in recent months, reviewing data again, P&W's "safety risk board" recommended faster inspections, suspecting the company's predictive models may be been inaccurate, Hayes says. "We literally have to pull these high-pressure turbine disks off the engine and put [them] through this inspection protocol."
Since discovering the problem, Pratt made "extensive improvements to our powder processing, to remove possible contamination sources", Calio says.
"Almost everything we shipped, or almost everything we have shipped… in the last [few] years, we believe, is just fine," Hayes adds.
The company has 13 maintenance facilities and will accelerate that capacity to support the inspections. It will also set aside more new engines as spares, to assist affected customers.
Executives say the disk problem's impact on V2500s and other PW1000G variants will be minimal.
P&W has suffered numerous high-profile PW1100G issues, including durability shortfalls, especially in hot and dusty regions. The company has also been short of enough spare engines and its maintenance capabilities have been strained, according to papers filed in a US federal court as part of a lawsuit against P&W by Indian airline Go First. The airline alleges that PW1100G problems forced its recent shutdown.
Last month, P&W president Shane Eddy confirmed that "10%" of PW1100G-powered jets were out of service, "waiting engines".