Pratt & Whitney in 2024 will begin delivering an updated version of its PW1100G geared turbofan (GTF) that the company says has more power and is 1% more fuel efficient than the current variant.
The updated turbofan – which P&W calls the GTF Advantage – will generate 4% more thrust at sea level and 8% more at "high and hot airports", says the company's GTF chief engineer Tom Pelland.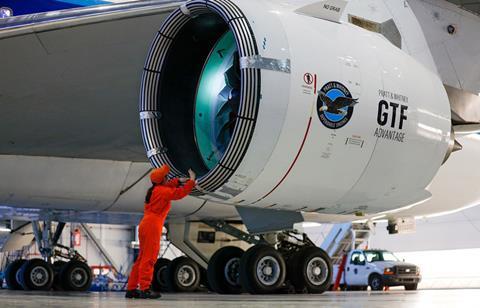 Connecticut-based P&W publicly revealed the programme on 2 December. PW1100Gs are an option on Airbus A320neo-family jets. The improvements will give aircraft more range and payload, P&W says.
The engine will provide "higher thrust, lower fuel burn and… more durability," says Pelland. "Getting all three of those things at once… is very difficult." The GTF Advantage will generate up to 34,000lb (151kN) of thrust.
P&W has achieved the efficiency gain through "technology enhancements throughout the engine core", it says.
"We get more flow down the core of this engine. We have really supercharged this engine," says P&W senior vice-president of engineering Geoff Hunt.
The updated GTF will have components with improved coatings that are more durable and more resistant to corrosion, says Hunt. Engineers also tweaked the "active clearance control" capability in the GTF Advantage's core. That system adjusts "the clearance between the turbine and… seals, to get optimal performance through the flight envelope".
The 1% efficiency boost will bring the PW1100G's total fuel-burn improvement over previous-generation engines to 17%.
"This new configuration will be interchangeable with already delivered engines and will become the new production standard for A320neo family aircraft," the company says.
P&W's GTF partner, MTU Aero Engines, "is working to optimise the high-pressure compressor and high-speed low-pressure turbine", it says.
Changes will result in a reduction of temperature in the high-pressure compressor. "The design has also been made more resistant to damage in the area of the blisk rotors that can occur when the engine is in operation," say MTU senior vice-president of engineering and technology Stefan Weber.
P&W has "completed more than a year of ground and flight testing" of the updated GTF, it says. Testing has included "multiple rig tests", and P&W has "now embarked on a first round of… durability tests", adds Hunt.
In addition, the GTF Advantage will be "compatible with 100% sustainable aviation fuel", says P&W.
P&W is not developing the GTF Advantage for the other geared turbofan variants which power A220s and Embraer E-Jet-E2s. However, P&W says longer term it could incorporate some of the changes into those other models.