Developing a new commercial aircraft engine will be tough to justify for Pratt & Whitney without an airframer committing to a single engine type for their next clean-sheet commercial aircraft.
"It makes it very, very difficult, with the volumes that we're talking about, to have any new engine make sense [for] anything other than a sole-source basis," Gregory Hayes, chief executive of P&W parent Raytheon Technologies, said on 18 May.
"We're not going to do anything dumb in terms of investment," Hayes adds.
He made his comments during the company's investor day.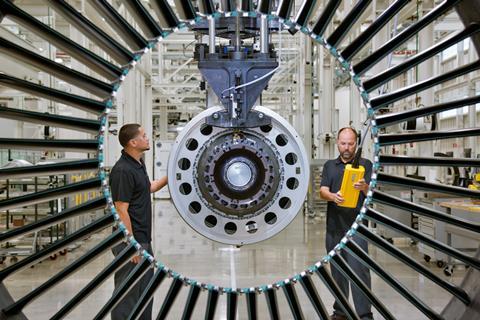 P&W president Christopher Calio expresses similar sentiment.
"The business model will have to work, the timing will have to work," Calio says when asked about a potential new engine. "It's going to need to be high volume."
P&W's geared turbofans currently enjoy sole-source-engine status on Airbus A220s and Embraer's lineup of E-Jet E2s.
But Airbus offers its best-selling A320neo family of jets with a choice of two engines: PW1100Gs or CFM International Leap-1As.
By comparison, only one engine – Leap-1Bs – power Boeing 737 Max.
During the investor day, executives at Raytheon and its subsidiaries noted that major airframers do not appear particularly close to launching a clean-sheet aircraft programme.
Last year, Boeing shelved development of a jet known as the New Mid-market Airplane, which was to have up to 270 seats and 5,000nm (9,260km).
Some analysts still view an NMA-sized aircraft as critical to Boeing's ability to compete with Airbus' A321neo. But the NMA's sales potential is thought to be relatively limited due to its niche capabilities, leading other analysts to suggest Boeing would be better off skipping the NMA and leaping directly to launching a 737 Max replacement.
Boeing is thought likely to bring its next jet to market in the early 2030s.
Likewise, Airbus CEO Guillaume Faury has said Airbus could launch a new single-aisle aircraft in the second half of this decade, for service entry in the early 2030s.
Executives say Raytheon's near-term financial outlook does not include development of a clean-sheet commercial aircraft engine. Instead, P&W will focus on improving its GTF architecture, they said.