With Canadian government support, Pratt & Whitney Canada is moving forward with a project to equip a De Havilland Canada Dash 8-100 turboprop with a hybrid-electric propulsion system, with demonstrator flights scheduled to begin in 2024.
The programme advances work that P&WC and sister companies had already started under the name Project 804. But that effort stalled in 2020 amid the pandemic.
P&WC has now committed again to the hybrid-electric technology, this time with Canadian government backing.
The engine maker's efforts will be "part of" a C$163 million ($129 million) investment, "supported by the governments of Canada and Quebec," says P&WC, a division of Raytheon Technologies, on 15 July. Of that amount, the government will pay about half, though P&WC does not specify how much its investment will be.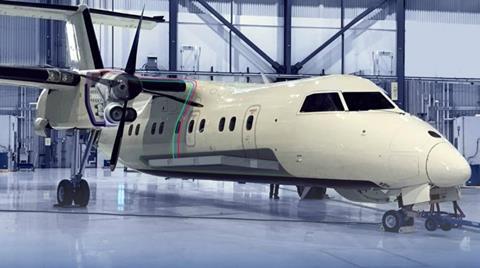 "The new hybrid-electric propulsion technology will drive significant improvements in aircraft efficiency by optimising performance across the different phases of flight, allowing the demonstrator to target a 30% reduction in fuel burn and CO2 emissions, compared to a modern regional turboprop airliner," P&WC says.
The news marks a major commitment by a major engine maker to develop a propulsion system that could significantly reduce fuel burn. Though several start-ups are working to develop all-electric regional passenger aircraft, many experts think that, due to battery limitations, hybrid-systems offer the best chance to boost efficiency in the short term.
P&WC aims to begin ground testing its hybrid-electric propulsion technology in 2022, followed by flight testing of the system on a modified Dash 8-100 in 2024.
P&WC president Maria Della Posta says the programme will make the engine maker "an integral part of Canada's green recovery plan".
"Hybrid-electric technology has an important role to play in enabling the next step-change in efficiency for aircraft engines, and we are uniquely positioned to demonstrate this potential," she adds.
P&WC is collaborating with De Havilland, a unit of Longview Aviation Capital, which acquired the Dash 8 programme from Bombardier in 2019.
The companies will integrate a hybrid system into a Dash 8, a type that typically carries about 40 passengers. The system will include an "advanced electric motor and controller" supplied by Collins Aerospace, also a Raytheon subsidiary.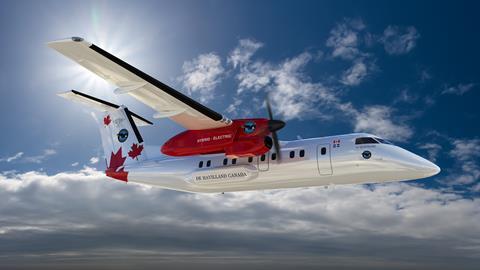 De Havilland will "design a modified nacelle structure to house the hybrid-electric technology" and "be responsible for the cockpit interfaces needed to safely monitor and control" the system. It will also "conduct the flight-test and demonstration programme and interface directly with Transport Canada for the corresponding experimental flight permit".
"We are immensely proud to be the first manufacturer of regional aircraft supporting the development of hybrid-electric propulsion technology," says De Havilland chief transformation officer Dave Riggs.
Canada's Strategic Innovation Fund, which helps fund large-scale Canadian research and development projects, "is backing the technology demonstrator", P&WC says. The province of Quebec is also supporting the programme through government corporation Investissement Quebec and the province's ministry of economics and innovation. Details about that funding remain unclear.
"Today we are investing to create good, well-paying jobs for our recovery," Canadian prime minister Justin Trudeau says. "This investment will also secure the [aerospace] industry's long-term future in Canada" by advancing "green aviation" technologies.
P&WC calls the effort a "successor" to Project 804, a programme launched in 2019 by United Technologies Advanced Projects (UTAP), a rapid-prototyping division of former P&WC parent United Technologies (UTC). UTC merged with Raytheon to form Raytheon Technologies in April 2020.
As of 2019, Project 804 – named for the distance in miles between P&WC's Montreal site and Collins' electric-technology site in Rockford, Illinois – aimed to equip a Dash 8-100 demonstrator with a 2MW hybrid-electric system, which would replace one of the aircraft's two P&WC PW120 turboprops.
Project 804's hybrid system was to consist of a 1MW gas turbine paired with a 1MW electric system, each helping drive a propeller via a gearbox and each providing power during take-off. After take-off, the system's turbine was to provide 100% of the hybrid system's output.
UTAP said installation of the hybrid-electric system would increase the Dash 8's operating empty weight and approximately halve its fuel capacity, leading to a 400nm (740km) range reduction, to around 600nm.
Project 804 seemed to be moving forward until mid 2020, when Raytheon said it had slowed the effort due to the Covid-19 pandemic.
Story updated on 15 July to note that government funding will cover about half the C$163 million project cost, and to add details about De Havilland's role.