Pratt & Whitney believes that improving the efficiency of gas turbine technology for aircraft engines will complement the roll-out of new technologies to reduce emissions.
Michael Winter, P&W's senior fellow for advanced technology, observes that there are considerable infrastructural challenges around emergent technologies, such as sustainable aviation fuel (SAF), hybrid electric propulsion, and hydrogen.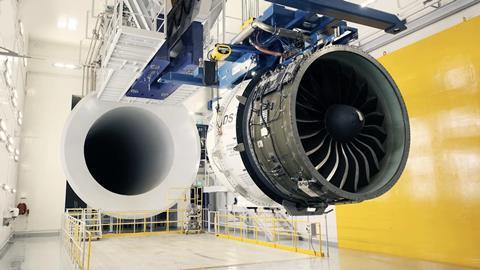 "Any improvements in the gas turbine will translate into less need of SAF, less need for hydrogen, and less need for batteries – hence reducing the mass of batteries needed on a [hybrid-electric aircraft]," he said, speaking to Asia-Pacific journalists during a virtual media event.
Winter believes there is still significant efficiency that can be squeezed from P&W's investment in geared turbofan (GTF) technology. GTF engines power the Airbus A220 and A320neo family, alongside Embraer's E-Jet E2, among others.
He points out that a significant increase in availability will be required to realise the potential of SAF as an alternative to standard jet fuel. P&W also has long experience with the idea of using liquid hydrogen, but notes that bringing this technology to fruition will require significant infrastructure investment.
"By introducing the geared turbofan, we really just got started, and we have an opportunity to keep going," he says.
He notes that P&W, working with NASA, has looked at ways to improve the efficiency of the GTF architecture. This included building an experimental engine with a bypass ratio of up to 18:1 – higher than the 12:1 ratio seen on the in-service PW1000 series.
In increasing the output of SAF, Winter says the aviation industry must be careful not to compete with food production or encourage deforestation, for example deriving the fuel from products such as palm or soy oil. Other sources of the feedstock for SAF production will need to be explored, he says.
"We are particularly excited about the processes that rely on Fischer-Tropsch, which can be used particularly with garbage and sewage – and there are also other pathways such as anaerobic digesters. [There are these] huge untapped resources that exist in close proximity to airports." The Fischer-Tropsch process converts gas containing hydrogen and carbon monoxide into hydrocarbon products.
By using such a technology to produce SAF near an airport, the cost of transporting fuel will also be reduced.
He adds that P&W is "happy to burn hydrogen" but that it all depends on development of the complete infrastructure to allow its roll-out.
"If the infrastructure should materialise, Pratt and Whitney will be ready. We understand how to do this."