Pratt & Whitney is still working through a retrofit effort to fix the three major issues afflicting PW1000G-series engines, but expects the activity to be concluded this year.
However, Greg Hayes, chief executive of parent company United Technologies, says that there are "no new durability issues" with the geared turbofan (GTF), the majority of which have been seen on PW1100Gs for the Airbus A320neo family.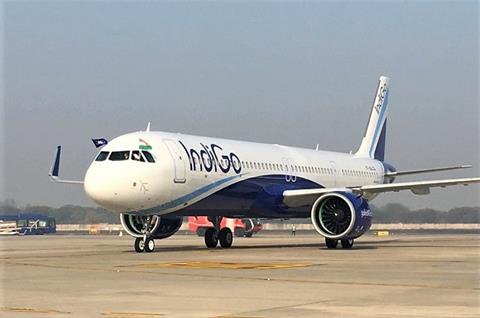 Hayes, speaking on a full-year earnings call on 28 January, identified the three issues as premature degradation of third-stage turbine blades, vibration from the auxiliary gearbox, and combustor liners that are deteriorating faster than expected.
While the retrofit programmes for each issue are under way, Hayes acknowledges that the durability problems are "causing operators pain", particularly in challenging operating environments such as China and India. In the latter, he references both IndiGo and GoAir as particularly encumbered by early-build engines featuring the previous turbine blade design.
This was made from a titanium-aluminium alloy which proved too fragile in use, especially when subject to foreign object debris ingestion, and could fracture, causing in-flight shutdowns.
"We are doing some accelerated inspections and accelerated retrofits to get this older-design blade out of the fleet," says Hayes.
New-build engines are not affected, and the retrofit work should be concluded by the second half, he says.
So far, over 1,400 GTF engines are in service, says Hayes, which have accumulated over 4.3 million flight hours.
He is confident that P&W can add to its backlog of over 10,000 GTF engines and increase its current 40% market share on the A320neo family.
Hayes points out that P&W has won about 50% of engine contests for the A320neo family over the last 12 months, with its overall share higher on the larger A321neo.
CFM International Leap-1As are also an option on the A320neo.