A UK initiative to develop a retrofitable green propulsion system for the Britten-Noman BN-2 Islander has dramatically switched course, abandoning a previous drive towards hybrid-electric power in favour of hydrogen fuel cells.
Announced in November 2019, Project Fresson saw a consortium led by Cranfield Aerospace Solutions (CAeS) awarded a £9 million ($12.6 million) government grant for the work. This planned to deliver a "first passenger-carrying sub-regional aircraft capable of all-electric flight" suitable for short "island hopping" missions by 2024.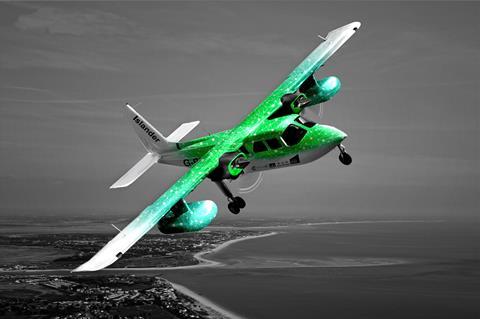 But Paul Hutton, chief executive of CAeS, says that detailed analysis of the electric powertrain options – pure batteries or hybrid architectures featuring piston or turbine range extenders – concluded "around three to four months ago" that they were not viable for this application.
"The battery solution is clearly green but with this particular platform you end up with such a small range that it's just not feasible commercially."
With either a piston or turbine range extender "you can absolutely get the range" but with the additional weight on top of the batteries, particularly when taking safety and redundancy into account "you end up producing the same or more carbon than the original aircraft."
Instead, a fuel-cell system using gaseous hydrogen is being pursued, which Hutton says is "both green and very much commercially viable", particularly "on this platform and the way that it is used".
A first flight of the demonstrator aircraft is still envisaged in 2022, with CAeS currently negotiating to acquire an Islander for the effort. Providing there are no hiccups, entry into service is envisaged in late 2023 or early 2024, says Hutton.
However, Islanders powered by the fuel cell system will see a significant cut in range, which falls to around 100-135nm (200-250km) from 639-728nm at present, depending on the engine. That equates to a flight time of 1h, with a 45min reserve.
However, Hutton argues that when the consortium analysed how the fleet is used "a very large percentage" of operators indicated that the 1h flight time was sufficient.
In addition, Jenny Kavanagh, chief strategy officer at CAeS, says operators were also keen to retain other characteristics of the Islander, such as short-field performance and its nine-passenger capacity.
But crucially, hydrogen power should offer a significant operational cost saving against the current piston-engine options: Hutton estimates an annual saving of £150,000-£300,000 depending on useage and cost of hydrogen. Maintenance costs should also fall, in the region of 15% for the whole aircraft and up to 50% for the propulsion system alone.
Lara Harrison, business development director at Britten-Norman, says that there were always "concerns" around electrification, in particular the weight of the batteries, as well as the infrastructure and length of time required to recharge them.
"The difference with the solution we are talking about now is that I have something I can take to my customers as a real-world solution for them," she says.
Should the powertrain developed by Project Fresson gain certification, CAeS will offer it as a retrofit solution, while a line-fit option will be available direct from Britten-Norman.
A number of current operators, both in the UK and elsewhere, have been approached as potential "early adopters" for route-proving trials, Harrison adds.
She says the development will be an "iterative process" and dangles the prospect of a future "next-generation Islander" to be built around the fuel cell technology.
However, the change in architecture also sees the consortium altered: Rolls-Royce, which was to provide the power management system, has opted to leave, along with subcontractors Delta Motorsport and WMG.
For its part, R-R says that due to the simplification of the architecture, its power management system was no longer needed. "Rolls-Royce will take the learning it has acquired from the project and incorporate it into future opportunities in this sphere," it says.
The UK company continues to research the use of hydrogen in aviation and stresses that this decision does not reflect its overall view of hydrogen as a potential propulsion technology.
Appointed in the place of the departing firms are engineering services company Ricardo, which will supply the fuel cells and associated systems, plus hydrogen storage provider Innovatus Technologies.
Ricardo is not developing the fuel cell stacks itself, says Andrew Ennever, the firm's solution lead for the technology. Instead, it brings its expertise to the re-engineering of the balance of plant around the fuel cell stack, and to the management and control of the overall system.
Islanders are currently powered by either twin Lycoming piston or R-R turboprop engines, respectively rated at 260-300hp (190-220kW) and 320hp; each fuel cell system will provide 250kW of power.
The composite hydrogen fuel tanks will be fitted to the Islander's wings via an existing pylon modification.
Innovatus's SHyFT multi-chamber tanks are a "key enabler" for the system, says the Scottish company's business development director Stuart McIntyre. Their ultra-lightweight construction and flexible form factor enable better integration with the airframe, he says.
While Hutton concedes that a clean-sheet design could be better optimised around the new powertrain, he says that would not offer the "quickest way" to improve the industry's environmental performance.
Similarly, although using liquid hydrogen increases the energy density of the fuel, the cooling and storage requirements "pose a different level of complexity".
"You don't want to add that complexity when you don't need to," he says.