Reaction Engines is hopeful that newly unveiled technology which uses its heat exchanger system to allow regular jet engines to burn ammonia – producing zero carbon emissions – could enter service within a decade.
UK-based Reaction also has formed a joint venture, which comprises catalyst expert the Science and Technology Facilities Council and venture capital firm IP Group, to develop a lightweight and compact ammonia cracker reactor.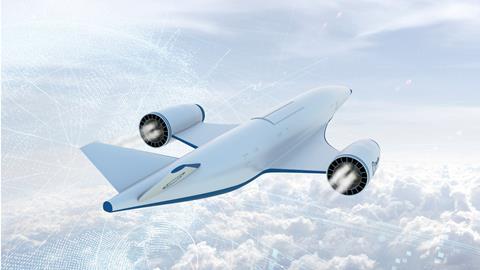 While ammonia has a higher energy density than regular jet fuel, it is highly inert; to be used in a regular gas turbine requires it to be cracked, or broken into its component parts, in this case three parts hydrogen and one part nitrogen.
The hydrogen can then be mixed with the remaining ammonia to create a combustible fuel that can be used in a jet engine with only minor modifications.
Heat exchanger technology derived from Reaction's SABRE programme is employed to harness an engine's waste heat to power the reactor cracker.
While IP Group will provide initial seed capital, the joint venture will in January conduct a Series A fund raising ground to enable ground testing of the system around two years later, followed by flight testing in around five, says Tom Scrope, chief financial officer.
"Our aim is that within the decade we will realise the technology into service," adds Dr Hamish Nichol, sector lead, applied technologies.
However, in order for the technology to be rolled out commercially, aircraft will need to be rewinged to allow for the installation of the cracker system to the engine pod, alongside changes to the fuel tanks.
In addition, it notes that ammonia's better volumetric energy density versus hydrogen and simpler storage requirements - it needs to be transported at only -33°C compared with -253°C for liquid hydrogen - reduces the complexity for airframers. A well-understood distribution system for ammonia adds to its appeal, says Reaction.
"Compared to the complete [aircraft] redesign that might be required for other zero-emission fuels this is much simpler," says Nichol.
On top of the changes to the wing, Reaction says that based on its modelling of an Airbus A320 using its system, airlines will have to tolerate range reducing to around 1,100nm (2,000km) – down from 3,350nm currently.
However, Nichol says this still covers 90% of the most popular routes, and range could be increased if more changes were implemented to aircraft designs.
While Reaction declines to disclose the shareholding split in the new joint venture, Scrope says "We have put together what we believe is a super-charged team to deliver this goal."
Strategic shareholders in Reaction include Boeing and Rolls-Royce.