Supply chain pressures and Boeing's halt of 787 deliveries are eating into Raytheon Technologies' sales, leading the company to revise its 2021 sales expectations.
The company now expects its 2021 revenue will be $64.5 billion, which is within – but at the bottom of – Raytheon's previously disclosed 2021 revenue expectation range, the company says on 26 October.
That range had been between $64.4 billion and $65.4 billion.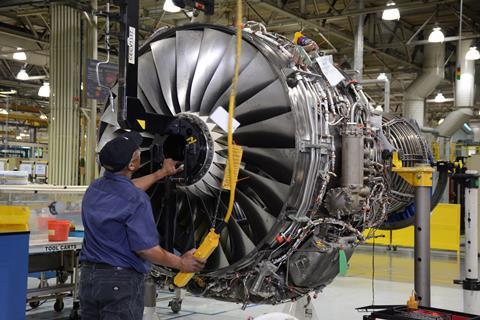 The tweak might seem relatively minor, but Raytheon makes clear the adjustment stems from broad industry factors.
"787 build rates have come down more than we had expected, resulting in a significant impact to our top-line outlook for the year," Raytheon chief financial officer Neil Mitchill says during the company's third-quarter earnings call. "Additionally, we aren't immune to the global supply chain pressures that are seeing some isolated impacts from the supply chain."
Boeing halted 787 deliveries in May due to quality issues involving the jets' fuselages. Deliveries remain paused.
"The pending vaccine mandate may put further pressure on the supply chain in the near term," Mitchell says, noting that vaccinations should also promote increased air travel demand. "With that backdrop, we're adjusting our sales outlook."
The vaccine mandate, implemented by President Joe Biden, applies to government contractors – including, essentially, all large aerospace companies.
"On the challenges side… we anticipate the global supply chain pressure will continue, and that lower 787 build rates will carry into next year," adds Raytheon chief executive Greg Hayes.
Despite such pressures, Mitchell says Raytheon's third-quarter results reflect "continued recovery of domestic and short-haul international travel".
Raytheon subsidiary Collins Aerospace turned a $478 million profit in the third quarter, down 9% year-on-year. Collins logged $4.6 billion in third quarter sales, up 7% from the same period of 2020. Its third-quarter commercial aftermarket sales jumped 38% year-on-year, while sales of new equipment slipped 3% – reflecting Boeing's halt of 787 deliveries, the company says.
Raytheon subsidiary Pratt & Whitney continues to ramp aircraft engine deliveries, shipping 165 large commercial aircraft engines to customers in the third quarter, up from 114 in the same period of 2020.
P&W posted a $189 million operating profit last quarter, reversing a $43 million loss in the corresponding 2020 period. Its third-quarter revenue came in at $4.7 billion, up 35% year-on-year. P&W's commercial aftermarket sales jumped 56% year-on-year in the third quarter, with sales of new commercial equipment up 22%.