Rolls-Royce has ditched plans to turn a former Qantas Boeing 747-400 into a flying testbed and will now dispose of the aircraft which has sat idle at Moses Lake airport in Washington state for over two years.
Announcing the acquisition of the Jumbo Jet (VH-OJU) in October 2019, the UK-based engine manufacturer said it would invest $70 million to acquire and refurbish the aircraft, turning it into a "flying digital hub" for the testing of commercial and business jet powerplants.
Conversion of the 747-400 by Moses Lake-based AeroTec was meant to take two years, Rolls-Royce said at the time.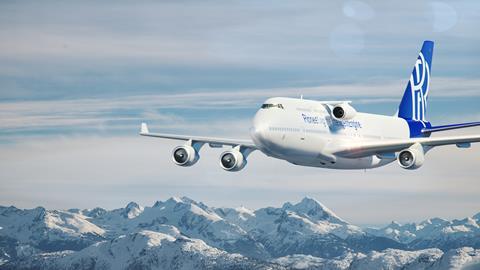 However, work on the Jumbo – now registered as N747RR – appeared to have stalled, with the aircraft remaining on the ground at Moses Lake since March 2020, according to data from flight tracking website FlightAware.
Rolls-Royce previously declined to comment on the status of the project, but now confirms it has been axed, citing the impact of the coronavirus pandemic on commercial aviation.
"In 2019, in anticipation of then future testing load, we acquired a Boeing 747-400 from Qantas and had planned to transform it into another flying testbed to supplement our existing Boeing 747-200 test platform.
"However, due to the Covid-19 pandemic and the resulting impact on our flying testbed programme (which now has a reduced scope over a longer period of time) we have taken the decision to stop this activity and continue our future flight testing on our existing 747-200, which will be reconfigured to meet these requirements."
In part, the change in flight-test capacity relates to the slower pace of development on the UltraFan demonstrator, work on which will be paused once the initial test phase is complete while the company waits for the launch of a new aircraft programme. A first ground run of the powerplant is likely to take place this year.
The next new engine to be tested aboard the 747-200 will almost certainly be the Pearl 10X for the Dassault Falcon 10X business jet, which is slated to enter service in 2025.
Rolls-Royce says it continues to "review the testing requirements for our more long-term programmes", but in light of its decision will "dispose of the 747-400… in the coming weeks", it says.

Dominic Perry is deputy editor of Flight International but also contributes extensively to flightglobal.com. Although specialising in the coverage of the helicopter industry, he has written on most topics in aerospace – be they commercial, defence or business aviation. In addition, there has been an increasing focus on the decarbonisation of the industry and zero-emission flight initiatives.