Rolls-Royce has successfully run a regional aircraft engine on hydrogen in what the propulsion specialist claims is a significant milestone towards aviation's decarbonisation.
Performed at the UK Ministry of Defence's test and evaluation facility at Boscombe Down in the southwest of England, the ground run used a modified AE 2100-A engine, a variant of the company's turboprop powerplant which equips the Saab 2000 regional airliner.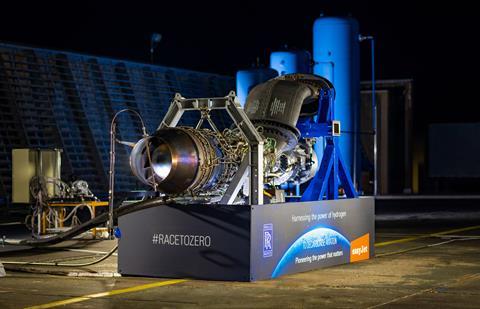 Green gaseous hydrogen for the early November trials was supplied by European Marine Energy Centre, generated using renewable energy at a production and tidal test facility on Eday in the Orkney Islands off the north of Scotland.
Rolls-Royce announced at July's Farnborough air show that it planned a series of trials of hydrogen fuel in partnership with EasyJet, which is providing financial support.
Further rig tests will now take place, leading to a full-scale ground test using a Pearl 15 business jet engine.
The 15,125lb (67kN)-thrust Pearl 15 equips the Bombardier Global 5500 and 6500 long-range business jet.
Rolls-Royce states that both itself and EasyJet retain a "longer-term ambition to carry out flight tests" of a hydrogen-fuelled engine.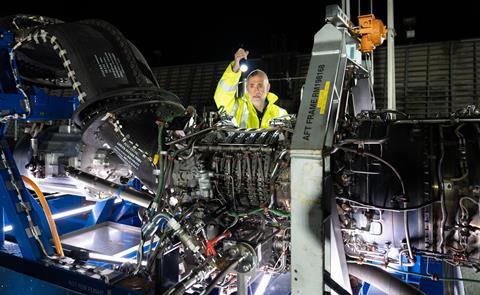 Grazia Vittadini, chief technology officer, Rolls-Royce, says: "The success of this hydrogen test is an exciting milestone.
"We are pushing the boundaries to discover the zero-carbon possibilities of hydrogen, which could help reshape the future of flight."
Announcing the initiative in the summer, Alan Newby, Rolls-Royce director aerospace technology and future programmes, said minor modifications of the AE 2100's fuel injectors would be required to allow it to run on hydrogen.
Results from the testing are likely to inform additional Rolls-Royce research on hydrogen combustion. In September, the UK manufacturer was awarded funding from the EU-backed Clean Aviation body for a project it calls 'Cavendish' – Consortium for the AdVent of aero-Engine Demonstration and aircraft Integration Strategy with Hydrogen.
Involving academic and industrial partners from Brazil, France, Germany, the Netherlands, Portugal, Spain and the UK, Cavendish "will integrate liquid hydrogen systems onto a modern donor engine for ground testing."
Other enabling technologies will also be evaluated as part of the project, which will "define requirements and activities towards flight demonstration."

Dominic Perry is deputy editor of Flight International but also contributes extensively to flightglobal.com. Although specialising in the coverage of the helicopter industry, he has written on most topics in aerospace – be they commercial, defence or business aviation. In addition, there has been an increasing focus on the decarbonisation of the industry and zero-emission flight initiatives.