Rolls-Royce is in talks with Boeing about powering a future commercial aircraft, following the UK manufacturer's 2019 withdrawal from the race to provide an engine for the US airframer's then-proposed New Mid-market Airplane.
During Rolls-Royce's annual general meeting on 13 May, chief executive Warren East said: "It is fairly well documented that Boeing is exploring the opportunity for a new aircraft… We are in dialogue with Boeing about that."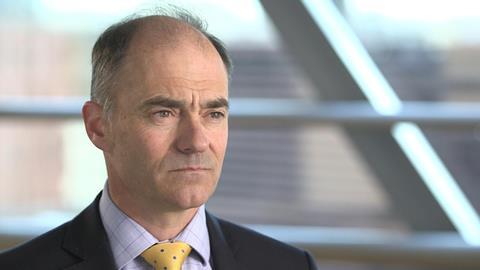 East suggests that the talks cover a potential application of Rolls-Royce's in-development UltraFan engine programme – the same powerplant Rolls-Royce had proposed for the NMA.
He recalls: "It was with a very heavy heart that we went along to Boeing and explained that we were going to have to withdraw." Rolls-Royce disclosed its decision in February 2019 after Boeing had received proposals to power the NMA from GE Aviation, Pratt & Whitney and the UK manufacturer.
East insists the withdrawal was "the right commercial decision to make at the time because the timescales that Boeing was operating to were simply out of line with our UltraFan programme."
While Rolls-Royce is aiming to have UltraFan ready for deployment after 2025, Boeing had been looking for an earlier service entry of the NMA.
East notes that a key factor in the withdrawal decision was the blade durability issues on Trent 1000 engines – the only commercial engine model Rolls-Royce supplies to a current Boeing programme, in competition with GE Aviation – which led to numerous 787s on the ground amid a wave of engine shop visits. "We felt it would be foolhardy to introduce a new engine without sufficient maturity testing, and we just couldn't get there in the time available."
But now UltraFan seems to be on the cards for a potential Boeing development, East indicates: "Time has marched on for a couple of years, our UltraFan has continued in that time as we maintained investment in it, and therefore it is a different situation today."
Even though Rolls-Royce has always said that the geared UltraFan architecture is scalable and could be developed be applied for a range of future aircraft, East acknowledges that the design lends itself primarily to widebodies. "Below widebody long-distance travel… we totally understand that UltraFan isn't necessarily the right power and propulsion answer in those applications."
However, he suggests that gas-turbine engines might not play a central role in future short- and medium-haul air travel, and that instead new propulsion concepts will find deployment as aviation strives to become carbon-neutral.
"There is going to be a range of different technology proposals that people explore over the next decade or so, and we are keeping a very open mind." He says that full- and hybrid-electric propulsion concepts and new fuel solutions might become available for "smaller aircraft and [the] ranges in-between" outside the widebody long-haul segment.
East adds that these concepts represent a "very interesting area [and] fantastic opportunity to combine new technologies with Rolls-Royce's decades of experience in the air".
The engine maker is involved in a number of such activities, including the development of an experimental full-electric, single-seat aircraft named "Spirit of Innovation", which will fly this year and is intended to become the world's fastest electric aircraft. Together with Norwegian carrier carrier Wideroe and Italian airframer Tecnam, Rolls-Royce has embarked on a project to develop all-electric passenger aircraft ready for service entry in 2026.
Rolls-Royce has had no presence in the medium-thrust commercial-engine segment since it left the International Aero Engines partnership with Pratt & Whitney, Japanese Aero Engine and MTU.