Rolls-Royce has completed assembly of its UltraFan demonstrator engine and mounted the powerplant in its Testbed 80 facility in Derby. However, the first engine run has slipped into early 2023.
The UK propulsion specialist had previously hoped to perform a first test run of the 80,000lb (355kN)-thrust-class engine this year.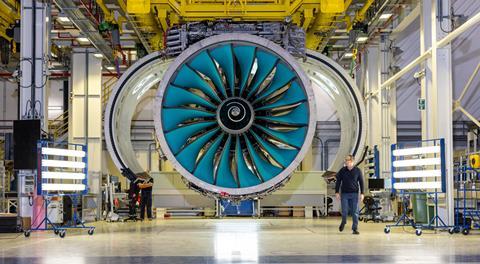 Chris Cholerton, president of Rolls-Royce Civil Aerospace, says: "Seeing the UltraFan demonstrator come together and getting ready for test in Testbed 80 is a great way to end the year.
"The next stage will be to see UltraFan run for the first time on 100% sustainable aviation fuel in 2023, proving the technology is ready to support more sustainable flight in the future."
UltraFan is a demonstration programme through which Rolls-Royce hopes to validate a suite of new technologies, including the engine's high-power gearbox, Advance3 core, ALECSys lean-burn combustion system, carbon-titanium fan blades and a composite casing, and high-temperature ceramic matrix composite (CMC) in the core.
Combined, these advances should deliver a 25% fuel-burn improvement over the first generation of Trent engines. NOx emissions will also be cut by 40%.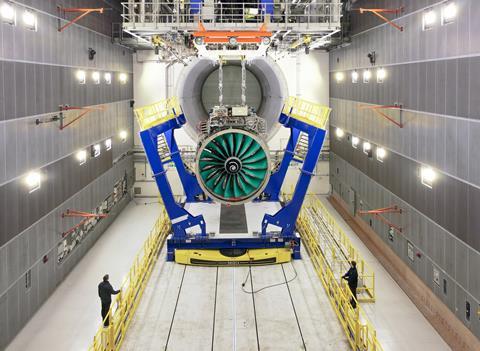 In the shorter term, Rolls-Royce sees potential to transfer some of UltraFan's key technologies onto its in-production Trent engines to boost their efficiency. Further out, the demonstrator's architecture – which is "scalable" from 25,000-110,000lb-thrust – could be used for future single- or twin-aisle applications.
Build-up of the test engine was in full swing earlier this year, with the integration of key modules complete in July. But on top of the engine components, engineers have also had to manage the addition of thousands of pieces of test instrumentation.
Development of the UltraFan has been supported by funding from the UK's Aerospace Technology Institute and Innovate UK, the EU's Clean Sky programmes, Germany's LuFo federal aviation research programme, plus the state of Brandenburg.
In future, the UltraFan architecture and supporting technologies – including hydrogen combustion and hybrid-electric systems – will be further matured through a Rolls-Royce-led project funded by the EU's Clean Aviation programme.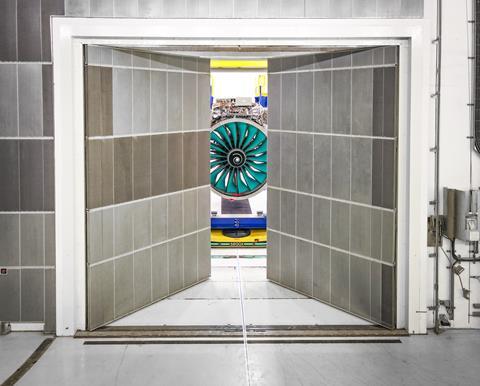 Dominic Perry is deputy editor of Flight International but also contributes extensively to flightglobal.com. Although specialising in the coverage of the helicopter industry, he has written on most topics in aerospace – be they commercial, defence or business aviation. In addition, there has been an increasing focus on the decarbonisation of the industry and zero-emission flight initiatives.
View full Profile