Rolls-Royce will later this year begin tests of the core of its new turbogenerator system designed to provide a range boost to battery-powered aircraft.
Revealed at the ILA Berlin air show in late June, the turbogenerator will be designed for applications between 500-1,200kW and features a clean-sheet small gas turbine engine at its heart.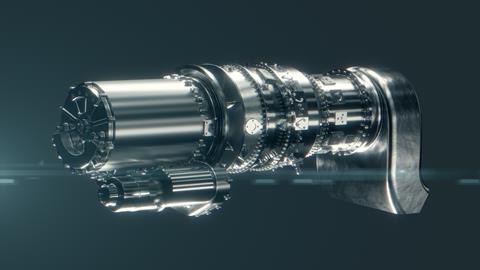 Matheu Parr, customer business director at Rolls-Royce Electrical, says the company will be "demonstrating the core of that turbogenerator this year".
That will be followed by full system trials, including the electric motor, next year, enabling certification and service entry around 2027, Parr told a pre-Farnborough briefing on 7 July.
He says the new gas turbine will be focused on delivering lower overall operating and maintenance costs and higher power density, "which is slightly different to where we normally focus as a company on specific fuel consumption", he says.
That has "driven us to certain technologies that we are incorporating against those aims" and R-R will be "proving them off in the next couple of years".
Parr says there will be "some technology investment" required to bring the turbogenerator to market but "nothing that's a potential blocker".
R-R sees initial applications on fixed-wing commuter or short take-off and landing aircraft, rather than the emerging market for electric vertical take-off and landing (eVTOL) vehicles, he says.
Parr says that could eventually include the P-Volt – an all-electric version of the Tecnam P2012 Traveller it is developing in partnership with the airframer and Norwegian regional carrier Wideroe.
R-R will be ready to deliver the motors and batteries for the P-Volt test aircraft in 2026, although is staying tight-lipped on the service-entry timeline.
Although the P-Volt is being developed specifically to meet Wideroe's zero-emission goals, Parr sees a path to a future upgrade with the turbogenerator system. That would increase range to 300nm (555km) or above, says Parr, against 85nm with today's battery technology, rising to 145nm by 2030, according to Tecnam's performance data.
R-R had previously tested a turbogenerator based around an M250 helicopter engine. Ground tests of the system were carried out in the USA and Germany with the intention of flight testing following in 2024-2025. A critical design review of the system was achieved last year, says Parr.
"But in the run up to that we had the opportunity to evaluate performance of a 1980s engine against what we could achieve with a new gas turbine," he adds. Based on that analysis, R-R decided not to proceed with the M250-based trials and instead focus on the new development.
While the gas turbine is being developed for the turbogenerator system, Parr says the company is considering other potential applications, noting the "exciting opportunities" as a light helicopter engine or potentially as an auxiliary power unit.
The electrical business, which was set up as a stand-alone unit earlier this year, continues to mature full-electric powertrains for both the P-Volt and UAM customers.
Two direct-drive, air-cooled motors are in development, says Parr, the 150kW, 1,500rpm RRP100 for UAM applications – such as the Vertical Aerospace VX4 – and the 300kW, 2,400rpm RRP300 for the commuter market.
R-R Electrical is working on a "portfolio" of technologies "behind the propeller", including batteries, motors, and control systems. These will be available as "bespoke components" or a fully integrated system, he says.
The shift to product development follows a period of intense research and development activity which has now ended, says Parr.
"You won't hear us talking about demonstrators… All our engineers are heads down on how we bring our portfolio to market."

Dominic Perry is deputy editor of Flight International but also contributes extensively to flightglobal.com. Although specialising in the coverage of the helicopter industry, he has written on most topics in aerospace – be they commercial, defence or business aviation. In addition, there has been an increasing focus on the decarbonisation of the industry and zero-emission flight initiatives.
View full Profile