Rolls-Royce will in the coming weeks attempt to set a speed record for electric aircraft with a battery-powered single-seat racing aircraft, concluding a three-year project to create capabilities and momentum for electric propulsion at the UK engine maker.
Under the ACCEL programme – short for "Accelerating the Electrification of Flight" – Rolls-Royce joined forces with UK battery specialist Electroflight and motor and controller manufacturer YASA to engineer what they term the "most power-dense battery pack ever assembled for an aircraft" in order to pass the targeted 300mph (260kt) speed mark with the 1,250kg (2,760lb) propeller aircraft.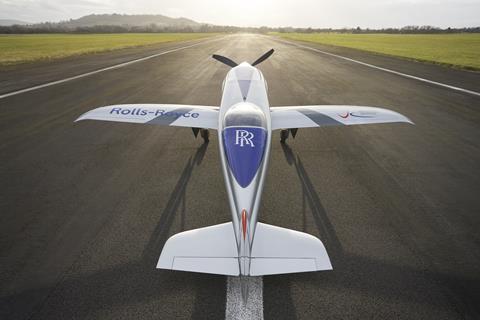 However, the project is about more than establishing electric propulsion capabilities at Rolls-Royce. It is part of a strategy to broaden the UK manufacturer's business and gain access to new markets beyond its main civilian activity of producing and supporting widebody turbofans and to a lesser extent business jet engines, as the aviation sector changes gear to reduce its environmental impact.
Rolls-Royce sees opportunities to supply battery-powered propulsion for general-aviation aircraft (particularly flight-training fleets), the emerging urban air mobility sector, and small commuter aircraft operating short routes.
Earlier this year, Rolls-Royce disclosed a joint plan with Norwegian regional carrier Wideroe and Italian airframer Tecnam to develop a battery-powered aircraft for service entry by 2026, based on Tecnam's P-Volt aircraft, an electrified version of its 11-seat P2012 Traveller twin.
Electric propulsion is feasible for larger aircraft too, but will have to be combined in those segments with hybrid-electric architectures or hydrogen-powered fuel cells because of the comparatively low energy density of batteries versus kerosene or hydrogen.
Rolls-Royce explored hybrid-electric propulsion for regional aircraft under the E-Fan X project with Airbus. A planned flight-test campaign on a modified BAE Systems Avro RJ100 was abandoned amid the pandemic in 2020, but the project partners have proceeded with ground test of the technology at their facilities.
FROM AEROSPACE TO TECHNOLOGY
Rolls-Royce Electrical customer business director Matheu Parr, who leads the ACCEL project, told Cirium during a 24 September media briefing at the military Boscombe Down airfield – where the battery-powered racing aircraft is stationed – that the electric aviation projects were part of a "shift from an aerospace business into a technology business".
Simon Burr, director of engineering and technology for civil aerospace, also present at the event, says Rolls-Royce has decided to concentrate development activities on a range of technologies for different market segments rather than a single sector. The manufacturer wants to ensure that different technologies are available for service when they are needed.
While kerosene has so far been used to fuel everything from light piston engine aeroplanes to large jetliners – no matter whether civilian or military, fixed- or rotary-wing aircraft – one central challenge in the transition to more sustainable aviation is to understand that different aerospace sectors will require specific power solutions and that there won't be universal fuel in future.
Parr says the battery system developed for the racing aircraft – named "Spirit of Innovation" – is fundamentally different to one for passenger- or freight-carrying aircraft as it was designed to discharge energy quickly rather than for endurance and range.
The speed record attempt will be conducted at low altitude close to the runway at Boscombe Down, flying an extended figure of eight with a long straight line in the middle. That pattern will be flown three times. Parr says the energy in the battery will be discharged within 8min.
The development of the battery, motor, cooling and power management equipment provided vital insight in the design of such systems and component optimisation. And Rolls-Royce says that electric vertical take-off and landing (eVTOL) aircraft will require similar technology to the racing aircraft.
Its powertrain includes three electric motors sitting next to each other on the main shaft, immediately aft of three-bladed variable pitch propeller, which together deliver 400kW (540hp).
Three inverters change direct current coming from the batteries – comprised of 6,000 lithium-ion cells packaged in, again, three separate units – into alternating current for the motors.
Burr says the 700V system was designed for redundancy and that the aircraft would be able to fly with one of its electric motors.
Rolls-Royce opted to encase the battery system in a container. This not only ensures heat management and protection from a potential thermal runaway event; the casing additionally has a load-bearing function as part of the aircraft's forward structure.
Meanwhile, the casing needs to be as light as possible to avoid excessive weight on the racing aircraft.
In order to provide a fire-resistant insulation lining inside the battery casing, Burr that the engineers ended up selecting a cork-based solution after it had found that the natural bark tissue had much better qualities than more highly engineered materials.
BATTERY KNOW-HOW
While Rolls-Royce and Electroflight used commercially available battery cells for the ACCEL project, the know-how to design a system that can discharge sufficient energy at the required rate lies in the battery arrangement, containment system, and power management.
Parr says that when the project began, 1kg of batteries required 1kg of packaging. On the Spirit of Innovation, he says the team installed 300kg of battery cells plus 150kg of packaging, resulting in a 25% mass reduction.
Rolls-Royce head of flight operations Phil O'Dell lost about 10kg through exercise as part of the team's weight-reduction effort for the speed record attempt.
A former UK Royal Air Force fast-jet pilot who has worked as test pilot for Rolls-Royce over the past 20 years, O'Dell flew the racing aircraft for its first, 15min flight from Boscombe Down on 15 September.
A second flight was completed by 24 September. But a technical issue that had prevented full gear-door closure after retraction required further attention before the flight-test campaign could proceed to the next stages.
O'Dell predicts that the engineers need another two or three flights to sort out the gear-door issue and about another 10 sorties to expand the flight test envelope before the aircraft and team are ready to attempt the speed record. This, he predicts, could take place toward the end of October or early November, weather permitting.
Having piloted various aircraft including Jaguars, Hawks and large commercial aircraft for his test pilot job at Rolls-Royce and Spitfires for the engine maker's heritage flying, O'Dell praises the ACCEL aircraft as having one of the most responsive throttles he has operated in his career.
Aside from a "brilliant" team-working experience between staff from Electroflight, Rolls-Royce and YASA, he says that one of the ACCEL project's key outcomes is that "we learned more about electric flight than we anticipated".
He acknowledges that the team learned "some lessons" during the process too, but says the project made his view clearer on the viability of electric flight and the opportunities it can provide to make flying more environmentally friendly.
"My mind is made up now… All of it is possible."
This analysis is written by Michael Gubisch, part of Cirium's London-based reporting team