Rolls-Royce will put its UltraFan demonstrator programme on hold once the initial phase of testing is complete as it waits for customer interest in a new powerplant to materialise.
Speaking at an event held in its Testbed 80 facility in Derby on 18 May to celebrate the engine's first runs, which began in late April, Tufan Erginbilgic, Rolls-Royce chief executive, said the tests would "continue for a number of months" but would then be stopped.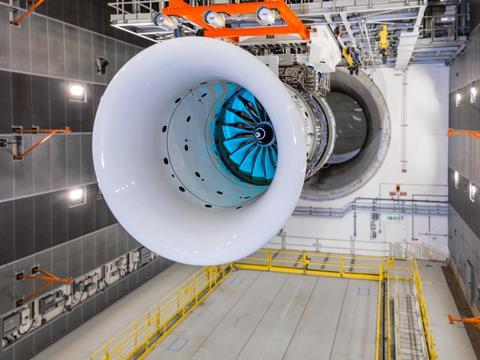 "Once we have finished this phase of testing on UltraFan we will be putting the whole engine demonstrator programme on hold until one of our airframe customers is ready to take this new engine architecture," he says.
However, he says Rolls-Royce will be "taking the technology [used in UltraFan] and applying it to in-production engines".
Grazia Vittadini, Rolls-Royce chief technology officer, says the initial test programme is scheduled to last for a minimum of three months "and we will take it from there" if additional evaluations are required.
The engine manufacturer is "very pleased with the results so far", says Vittadini, adding: "It started without any issues and has pretty much behaved as predicted.
"We were able to confirm the basic fundamentals but we will need further work to refine our understanding."
Alan Newby, Rolls-Royce director of aerospace technology and future programmes, says since its first run on 24 April the UltraFan engine has been taken to idle and beyond, although is unlikely to reach its full output of 80,000lb (355kN) thrust until the end of the test phase.
"We are gradually going to explore the envelope," he says, to ensure there are no "emerging behaviours" from the interaction of the sub-systems integrated on the engine. Particular focus has been given to the power gearbox and its effect on oil consumption, he adds.
Most of the sub-systems have already been extensively ground tested, or in some cases flight tested, but Vittadini points out that this is the first time they have been integrated together.
However, the absence of any new widebody development programme from either of the big two airframers means that, for now, she sees no need to take the UltraFan to flight test.
"Flight testing an engine means you would have the first flight of a [new] aircraft coming," she says.
However, Vittadini – formerly chief technology officer at Airbus – adds: "Dear airframers: give me an aircraft and we will have your engines."
But she points out that Rolls-Royce is already considering applications for the technologies and systems brought together on the UltraFan.
In particular, the Advance3 core and high-temperature materials used in the hot section are "100% applicable to the Trent XWB".
While any engine in the Trent family could in theory gain UltraFan-derived upgrades, improvements to the XWB "would make sense" as it is the "most advanced [engine] in our portfolio".
Although no further testing of the current demonstrator is envisaged beyond the first phase, Rolls-Royce will use the UltraFan architecture to develop a new narrowbody powerplant ready for potential service entry in the mid-2030s through a project funded by the EU's Clean Aviation body.
Led by the manufacturer's German unit, Project HEAVEN will seek to scale the engine down to a size suitable for a single-aisle jet, says Newby, alongside analysing how it could be run on liquid hydrogen.
Additionally, he sees aerodynamic improvements being made to the second-generation UltraFan, alongside "micro hybridisation" through the installation of small motor-generators.

Dominic Perry is deputy editor of Flight International but also contributes extensively to flightglobal.com. Although specialising in the coverage of the helicopter industry, he has written on most topics in aerospace – be they commercial, defence or business aviation. In addition, there has been an increasing focus on the decarbonisation of the industry and zero-emission flight initiatives.
View full Profile