Rolls-Royce has successfully tested an engine combustion system, featuring a new fuel spray nozzle design, specially configured to burn hydrogen.
Development work was carried out with Loughborough University in the UK and Germany's DLR aerospace research centre.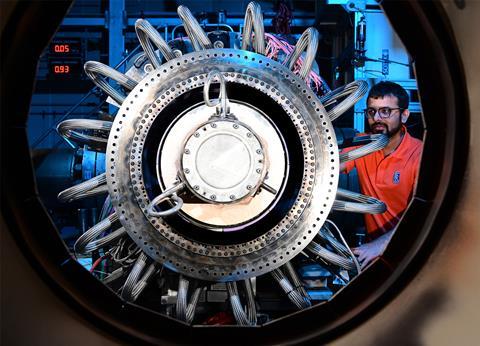 The activity culminated with tests of a full annular combustor from a Pearl 700 business jet engine running on 100% hydrogen at a DLR facility in Cologne.
These trials "have proven the fuel can be combusted at conditions that represent maximum take-off thrust", says the propulsion specialist.
Combustor operability and emissions were "both in line with expectations", says Rolls-Royce.
A new fuel nozzle that progressively mixes air with hydrogen was required to manage hydrogen's high flame temperature and speed.
Individual nozzles were tested initially at intermediate pressure at Loughborough University facilities and at DLR Cologne.
Last year, Rolls-Royce and partner EasyJet ran an AE 2100 engine on gaseous hydrogen in ground tests performed in the UK.
Learnings from that effort and the recent combustor evaluation will inform the next stage of the programme, which will see ground tests of a Pearl engine running on gaseous hydrogen.
That will be followed by a full ground test on a Pearl engine using liquid hydrogen.
"Both easyJet and Rolls-Royce have a shared ambition to then take the technology to flight," the partners state.

Dominic Perry is deputy editor of Flight International but also contributes extensively to flightglobal.com. Although specialising in the coverage of the helicopter industry, he has written on most topics in aerospace – be they commercial, defence or business aviation. In addition, there has been an increasing focus on the decarbonisation of the industry and zero-emission flight initiatives.
View full Profile