Safran has launched a study alongside Ariane Group and Airbus examining the potential for hydrogen as a future fuel source for aviation.
Called Hyperion, the project will evaluate the "hydrogen energy chain", says the French aerospace supplier. Ariane Group, which manufactures space launch vehicles, has been included due to its history in "mastering the know-how on engines burning liquid hydrogen". Ariane Group is jointly owned by Safran and Airbus.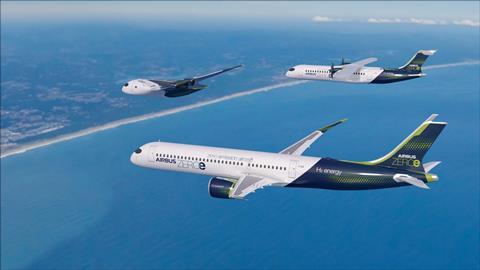 While Safran has been vocal in its push for cleaner aviation, much of its apparent focus has been on "ultra-optimised thermal propulsion" for next-generation engines, electric power for smaller aircraft, and sustainable aviation fuel.
But presenting the group's full-year results on 26 February, chief executive Olivier Andries said that hydrogen is "one of the options for future fuels".
Burning hydrogen is not the issue, he says, "as the turbo-machinery can be adapted", but the challenge "lies more on the tank and distribution system".
While hydrogen has greater energy density than kerosene, its liquid form needs to be stored at around -253°C (-423°F) in tanks that are four to five times larger, says Andries.
In addition, a study is being conducted with Airbus and French aerospace research body ONERA into the availability of "green" hydrogen.
The Hyperion effort forms part of the French government's drive for green aviation under its Plan Aero support package for the aerospace industry.
That foresees a demonstrator aircraft produced in 2026-2028 to hone the technologies required for a carbon-neutral successor to the Airbus A320neo to arrive in 2035.
Andries says that timeframe gives Safran several years to evaluate the feasibility of hydrogen before a final decision is needed.
Airbus has, however, already voiced its support for hydrogen power, last year unveiling its conceptual ZEROe aircraft featuring hybrid-hydrogen powertrains.