Safran expects its CFM International joint venture will be building 25 Leap-1B engines for the Boeing 737 Max per week by 2023 as the US airframer clears its backlog of built but undelivered narrowbodies and ramps up production again.
Boeing built up a huge inventory of undelivered 737 Max jets after it kept building the single-aisle during the type's prolonged grounding.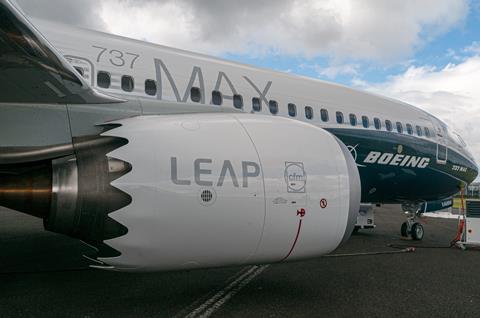 Lower demand during the pandemic also hampered efforts to reduce this stockpile, leading to low rates of new aircraft production with a knock-on effect for the programme's suppliers.
But Safran chief executive Olivier Andries told the group's capital markets day that it forecasts "the inventory of Max is going to be melted down in the next two years".
"In 2023 we have to expect a very strong ramp-up at Boeing. We have assumed that the rate will be around 50 [per month] by the end of 2023."
Safran is planning for that rate to be maintained for the subsequent two years, he says.
Output of Leap-1B engines is currently at six per week, says Jean-Paul Alary, chief executive of Safran Aircraft Engines, which is a partner in CFM with GE Aviation. To match Boeing's planned build rates that will need to rise to 25 per week by 2023, he says.
But with Airbus also increasing production of its A320neo family – on which the Leap-1A has a 60% share – to 65 per month by 2023, overall Leap output will need to rise above its previous high of 40 per week which was achieved in 2019.
Manufacturing of Leap-1As has already begun to increase this quarter, moving from 12 per week at present to a 17-per-week target in 2023, says Alary.
CFM's previous record year for Leap production was 2019 when it delivered a little over 1,700 engines. Although that figure reduced sharply in 2020 and 2021, it expects to ship 2,000 units by 2023, with that rate maintained over the following two years.
To ensure the smooth ramp-up of production, Safran has conducted extensive stress testing of its supply chain to identify potential bottlenecks of key parts. Around 100 sites were assessed, says Alary, and 15 action plans developed.
Weaknesses centred on forgings, castings and raw materials, he says.
However, Safran's findings were shared with both Airbus and Boeing to inform their ramp-up plans over the next two years.
Meanwhile, Andries says it is "not yet the time to take a decision" on whether it can meet Airbus's proposed rate of 75 A320neo jets in the future.
The current ramp up is "going to be a challenge", he says, "because the supply chain has been extremely compromised by the crisis".