Safran Aircraft Engines has detailed the key technologies it will mature as part of an EU-funded project that will support work on the RISE open-fan demonstrator being conducted by the CFM International joint venture in which the French firm is a partner alongside GE Aerospace.
In September last year, the Safran-led OFELIA (open-fan for environmental low impact of aviation) project was one of 20 selected by the EU's Clean Aviation body under its first funding round.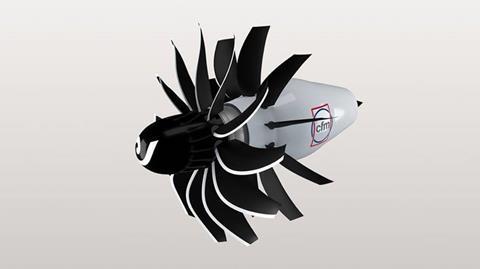 OFELIA will receive €100 million ($110 million) from Clean Aviation for the three-year project, which began in January and is scheduled to run until December 2025.
Safran declines to say how much funding the 27-company consortium is providing to OFELIA but Clean Aviation specifies that industry's contribution to a project must be at least 1.5 times the size of the EU grant.
OFELIA's aim is to demonstrate the benefits of an open-fan architecture for a new narrowbody engine to enter service in 2035; critically it should deliver a 20% fuel-burn saving over today's powerplants.
CFM launched the RISE demonstrator programme in June 2021 with the same fuel-burn reduction targets; flight-tests were due to begin by the middle of the decade.
Building on its research into open-rotor architectures carried out though the EU's Clean Sky programmes – the forerunners to Clean Aviation – Safran and its OFELIA partners intend to take the systems required for a new narrowbody engine to technology readiness level 5 by the end of the project.
Safran and partners Avio Aero – owned by GE – and GKN Aerospace will work together to design and manufacture components for the demonstrator engine.
Topics to be researched by the OFELIA consortium include whirl flutter, the unducted fan – comprising a single-stage propeller and a row of static vanes – high-speed booster, and high-speed low-pressure turbine aerodynamics.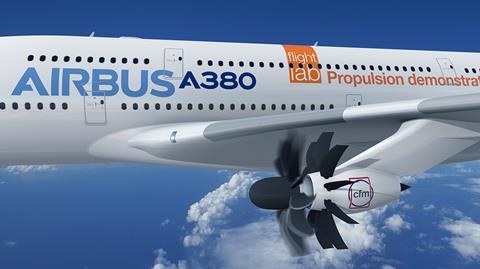 Additional maturation work will focus on a high-power compact reduction gearbox, lightweight engine components, combustor emissions, high-pressure compressor aerodynamics, and hybrid-electric technology. CFM has previously outlined the use of an electric motor-generator as part of the proposed RISE architecture.
Only ground testing is planned under the first phase of Clean Aviation. Although flight testing is envisaged under the programme's second stage – starting in 2026 – there is no guarantee that Safran will receive funding for such an activity, not least as there are two competing engine designs in the same development stream.
CFM already has a separate agreement with Airbus, disclosed in July 2022, to demonstrate the RISE engine aboard an A380 flying testbed in the second half of this decade.
However, to be ready for the second phase of Clean Aviation, Airbus will "prepare the preliminary dossier" to support the A380 flight tests, says Safran.
The open-fan engine will also be able to run on either sustainable aviation fuel or hydrogen. Safran will work alongside Airbus to iteratively develop the data supporting such operations for both the aircraft and engine, it says.
OFELIA consortium members include Safran's nacelle, transmission and booster businesses, GKN Aerospace, Avio Aero and GE's German unit, aerospace research institutes Cenaero, DLR, NLR, ONERA and VZLU, plus universities in Dresden, Graz and Turin.

Dominic Perry is deputy editor of Flight International but also contributes extensively to flightglobal.com. Although specialising in the coverage of the helicopter industry, he has written on most topics in aerospace – be they commercial, defence or business aviation. In addition, there has been an increasing focus on the decarbonisation of the industry and zero-emission flight initiatives.