Engine joint venture CFM International will deliver just 800 Leap-series powerplants this year – a further output reduction on previous forecasts, and a figure lower even than 2019's first-half total.
Revealing its half-year performance on 30 July, French aerospace firm Safran – a partner with GE Aviation in CFM – said 450 Leap engines were shipped in the first half, including 178 in the second quarter. In comparison, 861 Leap powerplants were delivered in the first half of 2019.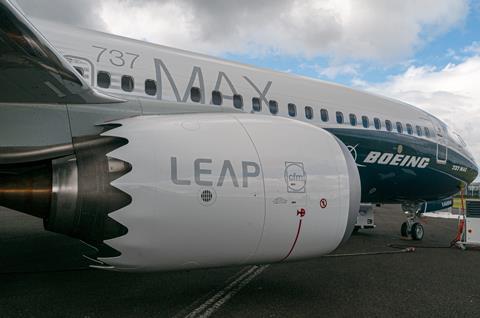 The reduction in planned output shows the depth of the coronavirus pandemic's impact on commercial aviation, plus the pressures felt by CFM due to its exposure to the Leap-1B-powered Boeing 737 Max programme.
At its full-year results briefing in February, Safran predicted the CFM joint venture would build 1,400 Leap engines in 2020, largely based on the suspension of 737 Max production the previous month; earlier ramp-up plans had anticipated assembly of 2,000 powerplants this year.
During the same briefing, Safran revealed that CFM had struck an agreement with Boeing that would have seen it build 10 Leap-1Bs per week in support of the Max programme and receive full payment for those engines this year.
However, Safran chief executive Philippe Petitcolin says this pact has since been modified owing to Boeing's revised return-to-service target and slower ramp-up plan.
Petitcolin says it was "impossible" to continue building the engines at the 10-per-week rate as "we would have just built a backlog for 2021" which would have impacted the financial benefit of the plan.
"We came to an agreement with Boeing for an updated decision where we would reduce the production of engines in the second half of the year without impacting the cash generation we had agreed at the beginning of the year," he says.
Production of CFM56 engines continued a planned ramp down, with 84 delivered in the first half, against 258 in the same period last year.
Aftermarket revenue fell by 34% in the first half, dropping by 66% in the second quarter, mainly driven by lower spare-part sales. Safran forecasts that activity in the segment will be reduced by 50% across the full year.
IATA is not forecasting a return to 2019 traffic levels until 2024, but Petitcolin says that the bounceback in Safran's aftermarket business "is going to go a lot faster", due to retirements of older jets as well as the company's high exposure to the narrowbody segment.
The early retirement of older jets will require airlines to "fly the current generation of airplanes a lot more", he says; the return to service of jets powered by newer CFM56 and Leap engines "will be faster than global traffic".
Petitcolin points out that 57% of the in-service CFM56 fleet is less than 10 years old; 45% of these have never undergone a shop visit.
Revenue from the company's propulsion segment, which includes helicopter and military engines, fell to €4 billion ($4.7 billion) in the first half, down from €5.9 billion in the same period in 2019. Total group sales stood at €8.7 billion, down from €12.1 billion a year earlier.