Safran and its partner in the CFM International joint venture GE Aviation are preparing the technologies required for a next-generation commercial aircraft engine to enter service in the mid-2030s that would cut fuel burn by over 20%.
Olivier Andries, Safran chief executive, says that the French aerospace group wants to "be at the forefront" of aviation's efforts to address climate change, directing around 75% of its research and technology spending to this topic in the coming years.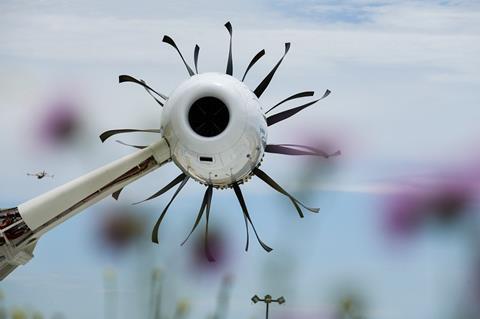 Propulsion will play a key part in this, he told a full-year results briefing today, and work is under way on a future project.
"Together with our partner GE we are already preparing and maturing the technologies for a next-gen engine for a next-gen aircraft [to arrive] around mid-next decade – 2035."
To reach the "significant" fuel-burn and emission reductions required, Safran is working on "disruptive technologies and disruptive architectures", says Andries.
Although declining to offer details, Safran has previously demonstrated an open rotor design for a future engine, and Andries says that the company will "capitalise" on that work. The demonstrator featured twin counter-rotating fans and was sized to deliver 10t of thrust with a bypass ratio of 30:1.
A next-generation engine will offer a fuel-burn improvement of "over 20%", he says, and be able to burn 100% sustainable aviation fuel (SAF); current CFM56 and Leap powerplants can burn up to 50%, he notes.
To encourage the uptake of SAF, Safran has proposed to the European Commission that it mandate that all airlines operating flights in Europe use a "certain percentage" of SAF. The Commission is "thinking about it", says Andries.
In addition, Safran is also working on electric and hybrid-electric propulsion for smaller aircraft to enable the company to "become world leaders in this segment".