Safran has emphasised that the timing of any new engine launch will be driven by the airframers, as the French aerospace giant begins working in earnest on the next generation of propulsion systems.
Earlier this year Safran through its CFM International narrowbody engine joint venture with GE Aviation announced the RISE technology demonstrator programme.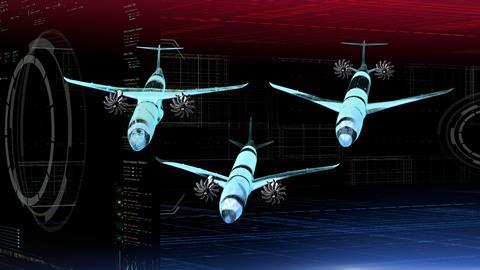 That effort aims to mature an engine which delivers a 20% reduction in fuel burn for single-aisle applications in the middle of next decade.
But Olivier Andries, Safran chief executive, stresses that while it is down to CFM to "demonstrate this technology", RISE is "not an engine launch".
"At the end of the day, the timing for a new aircraft launch and a replacement aircraft is an airframer decision," he told the group's capital markets day on 2 December.
Although CFM dominates the narrowbody market – claiming a 72% share with its Leap-series powerplants – Andries says that a future CFM product would not automatically be chosen for any future application.
It would, he says, be down to an aircraft manufacturer to "select what they consider to be the best engine option".
But Andries argues that the fuel savings promised by RISE's open fan architecture are "absolutely compelling" and will be the only way to achieve "a 20% fuel burn [reduction]".
Aside from the 4m (13ft)-diameter composite open fan – twice as large as the fan on the Leap – key technologies aiding the performance of RISE will be a "lighter, more compact" high-speed booster and low-pressure system, hybrid-electric assistance, and an "advanced waste heat recovery system", says Delphine Dijoud, executive manager, CFM RISE programme, systems engineering at Safran Aircraft Engines.
The hybrid-electric system will "optimise engine performance" by "providing additional electric thrust" when needed, and also generate electricity both for itself and the rest of the aircraft, she says.
"Embedding a generator in the engine will bring flexibility to the engine controls throughout the entire flight envelope," she says.
But the requirements of future engines, particularly around the need to operate at ever-higher temperatures, are also driving Safran's research into new materials, says Eric Dalbies, executive vice-president of research and technology and innovation.
These include the advanced processes required to manufacture next-generation turbine blades, where the single-crystal composition provides a "step-change in the maximum allowable temperatures".
Similarly, lightweight ceramic matrix composites will also be used in the engine's hot section, leveraging Safran's work using the material for space and military applications, he says.
In addition, high-performance coated steels will be required for the "high-power compact reduction gearbox" intended for next-generation engine architecture in order to "maximise efficiency" through decoupling the low-speed fan and high-speed core.
Safran intends to spend €4 billion ($4.5 billion) on research and development in the 2021-2025 period, 75% of which will go on decarbonisation efforts, says Andries; one-third of the total will come from public funds, either the French state or Europe, he adds.
"Yes, we are going to acclerate the pace of investment for decarbonisation," says Andries.