Availability of complex metal components used to produce aerospace turbofans will likely remain constrained through most of this year.
That is according to executives at Raytheon Technologies, parent of engine maker Pratt & Whitney (P&W), who spoke on 24 January, the day Raytheon disclosed its 2022 financial results.
Despite supply chain trouble, P&W and Raytheon's other commercial aviation business – Collins Aerospace – logged financial improvements in 2022. But the businesses have yet to fully recover to pre-pandemic benchmarks.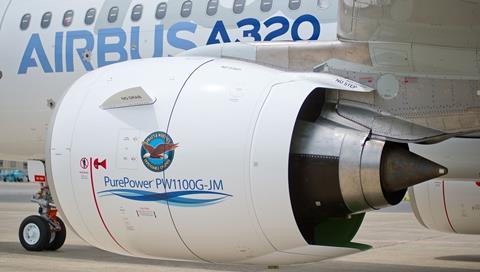 "We are not out of the woods," says Raytheon chief executive Gregory Hayes, referring to availability of cast-metal components for turbofan engines. "It's going to be the end of 2023 before we see structural castings back to 2019 levels."
Hayes insists P&W and Collins are positioned to meet Airbus and Boeing's aircraft production rates.
"We are in lockstep with Boeing and Airbus in terms of their production rates," he says. "We don't see anything in our supply chain today that would prevent us from delivering at rates that Boeing and Airbus need."
P&W produces PW1000G geared turbofans for aircraft including Airbus's family of A320neo jets, while Collins manufacturers a variety of aerospace components and systems for many aircraft manufacturers.
Connecticut-based P&W turned a $1.1 billion operating profit in 2022, more than double its $454 million operating profit in 2021 – but still depressed from its $1.8 billion profit in pre-pandemic 2019.
The engine maker's 2022 sales came in at $20.5 billion, up 13% year-on-year and nearly equal to the $20.9 billion in sales it logged in 2019.
The improved results reflect a bump in engine shipments and aftermarket-services sales, Raytheon says. In 2022, P&W delivered 712 large commercial aviation turbofans (including PW1000Gs), up from 623 in 2021. P&W delivered 746 of those engines in 2019.
Turboprop maker Pratt & Whitney Canada shipped 1,965 engines in 2022, up from 1,825 in 2021 but down from 2,355 in 2019.
Aerospace engine makers have long struggled with securing adequate supplies of cast and forged metal parts – precise components produced (typically by suppliers) using complex and labour-intensive processes.
Such components have been in particular short supply in recent years as the aerospace industry has sought to increase production following capacity cuts made during the Covid-19 pandemic. Suppliers of cast and forged components have struggled with soaring costs and insufficient numbers of workers, analysts have noted.
"It has gotten a lot better than a year ago," says Raytheon's Hayes.
The company's chief operating officer Christopher Calio says P&W's suppliers have accelerated hiring. But, he adds that suppliers of cast components cannot expand particularly fast due to production complexity and required employee training.
Raytheon's Collins Aerospace division also performed better in 2022, with a $2.3 billion profit, up 33% from 2021. Collins' 2022 sales jumped 12% year-on-year to $20.6 billion, likewise reflecting increased demand for aftermarket services, Raytheon says. By comparison, Collins turned a $4.5 billion operating profit in 2019.
Raytheon expects P&W's sales will increase in the "low-to-mid teens" percent range in 2023, with Collins' sales up in the "low-double-digits" range.