Partners in an EU-backed project to validate engine technologies that could help deliver a 25% fuel-saving over current-generation powerplants are deep into their initial design work as they eye later ground- and flight-test programmes.
Working through the SWITCH (sustainable water-injecting turbofan comprising hybrid electrics) consortium, the partners were in September 2022 selected by the EU's Clean Aviation body as one of 20 projects to share over €700 million ($764 million) in phase-one funding.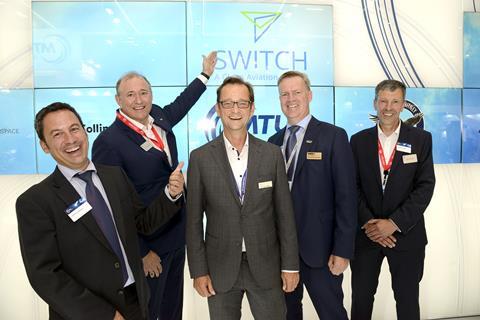 Led by Germany's MTU Aero Engines, the project also includes significant contributions from Pratt & Whitney, Collins Aerospace, GKN Aerospace and Airbus, alongside other partners from research institutes and academia.
Their design marries the Water Enhanced Turbofan (WET) – a concept championed by MTU – with a P&W geared turbofan that has been boosted with a pair of Collins-supplied electric-motor generators.
Dr Claus Riegler, MTU chief technical officer, says that since the project's February kick-off meeting, the team has been "continuously optimising" the SWITCH configuration.
There has been "a lot of focus" on the "integration of the engine concept" with partner Airbus "working intensively" on such studies, he told a Paris air show briefing to unveil the consortium's new logo on 19 June.
As two "significant heat exchangers" are included in the WET architecture, presenting "volume, weight and size" challenges, "smart integration [of the engine] under the wing is very important" to minimise potential drag penalties.
Describing maturation of the engine as a "big challenge" which is "pushing the boundaries a little", Jean-Baptiste Manchette, Airbus head of propulsion of tomorrow, says projects like SWIITCH are vital "to find out what's the best way of integrating the technology".
Riegler says MTU has also begun examining "special operating cases" – such as rejected take-offs or go-arounds – "and we are learning a lot about how the configuration reacts compared with a more traditional configuration".
Using residual heat from the engine's exhaust gas, WET technology uses a heat exchanger to vaporise water, which is then injected into the combustor, increasing engine efficiency through heat recovery, slashing greenhouse emissions, and reducing contrail formation.
In the SWITCH concept, further efficiency gains are driven by a 0.5MW motor generator on the high-pressure spool and a similar 1MW unit on the low-pressure system. Cooling for both motors will be supplied by air taken from the fan stream.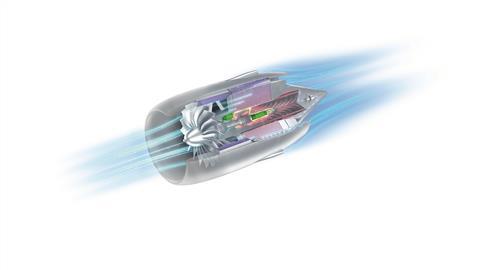 The motors will allow energy to be added to or extracted from the engine, enabling optimisation of gas turbine for efficiency in high-power flight phases such as cruise and take-off, says Graham Webb, P&W chief sustainability officer.
Marc Holme, senior director, engineering at Collins, says it is developing the requirements for the system and working on the engine integration with sister company P&W. Collins recently confirmed the power output of the 1MW motor.
Integration is also being aided by GKN, says vice-president of technology Henrik Runnemalm, which will also develop the high-voltage wiring system and provide test rigs at its Trollhattan facility in Sweden to "prove the concept will work".
By 2025, initial ground testing of the hybrid-electric system will have been carried out using a modified PW1100G geared turbofan. Technology and component tests for the WET engine will also be performed, alongside aircraft integration studies for the combined system.
Dependent on securing funding from Clean Aviation's second phase, to start in 2026, flight tests of the hybrid-equipped GTF could also take place within the context of the SWITCH consortium.
Initial predictions suggested the SWITCH engine would be 50% heavier than a current-generation powerplant, but Riegler says it has seen a "significant" mass reduction, down to 40%, as the project has progressed. "Right now it is going in the right direction – the engine is also a little bit shorter as well."
WET technology is one of several concepts being considered by P&W for its Gen2 geared turbofan, an engine it sees as potentially equipping a next-generation narrowbody to enter service in the mid-2030s.
As well as further increasing the fan size, taking the bypass ratio to around 15:1 from 12:1 at present, Webb says technologies to improve the thermal efficiency of the engine, such as ceramic matric composites, are being readied, alongside improved aerodynamics.

Dominic Perry is deputy editor of Flight International but also contributes extensively to flightglobal.com. Although specialising in the coverage of the helicopter industry, he has written on most topics in aerospace – be they commercial, defence or business aviation. In addition, there has been an increasing focus on the decarbonisation of the industry and zero-emission flight initiatives.
View full Profile