California start-up Universal Hydrogen is a step closer to establishing a certification basis for retrofitting ATR 72 regional turboprops with its fuel cell technology.
The developer disclosed on 14 September that the Federal Aviation Administration accepted its application for a supplemental type certificate for retrofitting the French-made turboprops with "liquid hydrogen modules and a fuel cell-electric propulsion system".
Universal Hydrogen says it has also received from the FAA a G-1 issue paper, "a key step in establishing the certification criteria, including tailoring of applicable airworthiness and environmental standards required by the FAA to ultimately certify the Universal Hydrogen design for ATR 72 conversion to hydrogen power".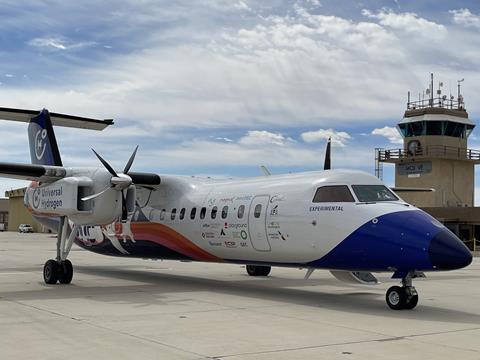 "For something as novel as hydrogen-powered airplanes, establishing the certification basis is a critically important milestone in the certification process," says Carl Burleson, former acting deputy administrator of the FAA and an advisor to Universal Hydrogen. "This is the culmination of nearly two years of effort between Universal Hydrogen and the FAA on this trailblazing project, which represents a key part of the solution set to help address the aviation industry's commitment to a zero-carbon future."
Universal Hydrogen says it is working with the FAA to establish full certification requirements for its design and has embarked on an "ambitious ground and flight test campaign" to demonstrate airworthiness and compliance with safety standards for passenger flight.
The start-up tells FlightGlobal that is does not have a target date for finalising its certification basis with the FAA, but it is hopeful that the major milestone will be passed in "coming months".
"We have been working with the FAA's CECI [Center for Emerging Concepts and Innovation] for nearly two years now, and that should help us come to a final agreement sooner," the company says.
The company hopes to secure supplemental type certificates for hydrogen-fuel-cell retrofits for both De Havilland Canada Dash 8s and ATR 72s, which come standard with twin Pratt & Whitney PW123s.
In March, Universal Hydrogen conducted the maiden sortie of its hydrogen-fuel-cell powered Dash 8-300 in Moses Lake, Washington. It has since flown the demonstrator – which has one PW123 and one fuel-cell powertrain – to Mojave Air & Space Port in California for testing ahead of its 2025 certification goal.