Universal Hydrogen has flown its hydrogen-fuel-cell powered De Havilland Canada Dash 8-300 demonstrator to the Mojave Air & Space Port in California for resumption of flight testing ahead of a 2025 certification goal.
The modified Dash 8 – which has one Pratt & Whitney PW123 engine and one fuel-cell powertrain – arrived in Mojave on 24 June following a journey from Moses Lake in Washington, Universal says on 29 June.
The aircraft made four stops during the 800nm (1,482km) journey from Moses Lake, where Universal had completed the demonstrator's first flight on 2 March.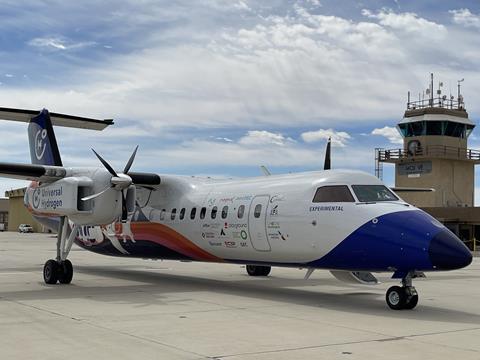 "The aircraft… will reside at the Mojave Air & Space Port in California, where Universal Hydrogen will conduct additional test flights gearing up to its goal of commercial entry into service in late 2025," says Universal. "The Mojave centre consolidates test-flight operations nearer to its headquarters, and also will allow the company to take advantage of a strong engineering talent pool in Mojave as well as nearby Los Angeles."
Universal is based in Hawthorne, California, which is near Los Angeles and about 100 miles (161km) from Mojave.
During the ferry flights, "The hydrogen powertrain was fully utilised for each take-off, and on the first three legs of the ferry it was throttled down after take-off," the company says. "On the last leg, the hydrogen fuel cell powertrain was used for [the] duration of the entire flight, accruing over 180nm and a flight time of over 1h, which is the longest flight by a hydrogen fuel cell powertrain to date."
Launched several years ago by former Airbus and Raytheon Technologies executive Paul Eremenko, Universal has said it ultimately plans to develop a hydrogen-fuel distribution network for aviation. The network is to involve portable hydrogen fuel tanks called "modules" that can be swapped on and off aircraft.
Universal is also working to demonstrate the viability of hydrogen-powered aircraft – a prerequisite for its broader plan.
Toward that end, it is developing and hopes to secure supplemental type certificates for hydrogen-fuel-cell retrofits for both Dash 8s and ATR 72 turboprops, which come standard with twin PW123s. The fuel cell systems are to replace both PW123s on each aircraft.
For the Dash 8 demonstrator, Universal replaced only the right-side PW123 with its prototype hydrogen-fuel-cell driven propulsion unit. The package includes the fuel cell system, which is supplied by New York company Plug Power and generates electricity to power a Magnix-made 872hp (650kW) Magni650 electric motor, which turns a prop.