The US Air Force (USAF) is partnering with the UK's Reaction Engines to improve the performance of hypersonic and near-hypersonic engines.
The partnership between the Air Force Research Laboratory (AFRL) and Oxfordshire-based Reaction will focus on expanding the performance envelope of a cooling technology that enables high-Mach engines to function more efficiently, the company said on 7 July.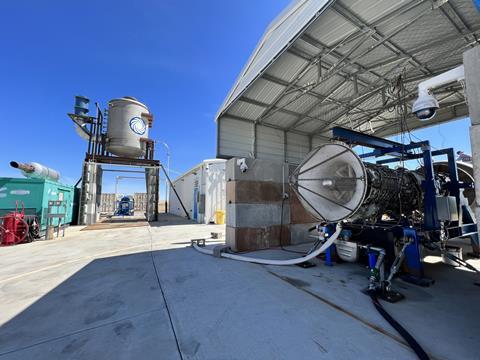 Reaction Engines specialises in developing methods for managing the build-up of heat in a variety of aerospace functions, including hypersonic-capable engines. That is generally defined as flight at speeds of Mach 5 (6,174 km/h) or above.
Although the US military typically develops sensitive new technologies with domestic companies, the Department of Defense's Foreign Comparative Testing (FCT) programme provides a path for non-US companies with ground-breaking technology to work with the Pentagon.
"FCT demonstrates US commitment to a 'two-way street' for defence procurements with both allied and friendly nations," says USAF FCT manager William Reed. "Reaction Engines technology is world-class and is a great fit for the FCT programme."
The company is developing the Synthetic Air Breathing Rocket Engine (SABRE), which Reaction says can function at speeds in excess of M5.
Key to the operation of SABRE at hypersonic speeds is a proprietary coolant system, known as precooler, which can rapidly reduce the temperature of intake air from 1,000°C (1,832°F) to ambient levels, according to Reaction.
The company says SABRE has the potential to provide air-breathing thrust from standstill on the runway to speeds more than five times the speed of sound in the atmosphere. The engine also has potential applications in space propulsion.
Individual components of the engine have been successfully demonstrated on the ground.
The latest test programme aims to further expand upon those capabilities. Reaction says the goal is to increase the delivered air mass flow rate of its cooling system, which it hopes "will result in a three-fold increase in the total energy transfer".
Andrew Piotti, Reaction's US engineering manager, says if the new test programme goes well, the precooler technology could help boost the performance of existing jet engines.
"The exciting outcome that I am looking forward to over the coming weeks is the validation that our technology could enable current jet engines to operate from take-off up through Mach 4 and beyond," Piotti says.
Reaction Engines has been conducting research testing at the Colorado Air and Space Port near Denver.