Regulators on both sides of the Atlantic have warned that more GE Aerospace and CFM International engines than previously thought may be susceptible to premature failure due to a manufacturing defect.
The US Federal Aviation Administration first raised the issue last year, saying in airworthiness directives (ADs) that a small number of CFM Leap-1As, GE GEnx and GE90 engines might have components produced using contaminated material. The FAA said that material might contain "iron inclusion".
The US regulator has recently said more Leap-1As and GEnx engines might have defective components, while its European counterpart has flagged a similar issue with some Leap-1Bs. GE Aerospace co-owns CFM with Safran Aircraft Engines.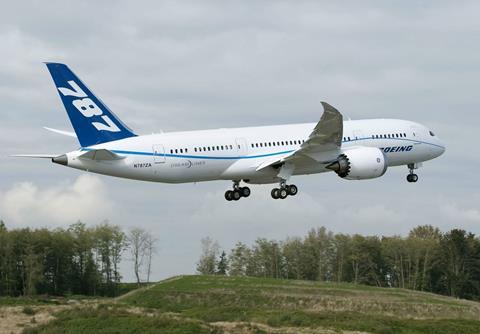 In a proposed AD released on 12 April, the FAA says "certain stages 6-10 compressor rotor spools and forward seals" in some GEnx engines "were manufactured from powder metal material suspected to contain iron inclusion".
GEnx turbofans power Boeing 787s and 747-8s.
"A manufacturer investigation determined that the iron inclusion was introduced during the manufacturing process from raw material filtering screens that had degraded," the proposed rule says. Affected components "may have reduced material properties and a lower fatigue life capability".
The proposal says only 13 engines on US-registered aircraft are affected but does not specify if those are 787s or 747-8s. If finalised, it would require operators replace affected components.
"GE Aerospace is taking proactive action through a service bulletin that specifies a removal threshold for a subset of fielded engine parts impacted," the engine maker says. "We are working closely with our customers to minimise disruption, and we are proactively communicating with airworthiness authorities, airframers and airline customers."
The issue involves possible contamination of a powered metal alloy used for manufacturing certain rotating engine components, GE Aerospace says, adding that the problem is contained and that it is working with a supplier to determine the cause.
The company also says it has no evidence the issue presents an immediate flight-safety risk.
But the defect is not confined to the widebody engine family.
On 23 March, the FAA issued a separate proposal saying an additional 38 Leap-1As – powering Airbus A320neos – had components "manufactured from material suspected to have reduced material properties due to iron inclusion".
Then on 29 March, the European Union Aviation Safety Agency (EASA) issued a proposal addressing the problem in some Leap-1Bs, which power the 737 Max.
"This condition, if not corrected, could lead to failure of affected parts, possibly resulting in high-energy debris release, with consequent damage to, and reduced control of, the aeroplane," EASA's proposed AD says.