The US government has indicted six aerospace industry executives – including one who apparently worked at Pratt & Whitney – for allegedly conspiring to manipulate aerospace hiring practices for the purpose of reducing labour costs.
"The conspiracy affected thousands of engineers and other skilled workers in the aerospace industry who perform services in the design, manufacturing and servicing of aircraft components for both commercial and military purposes," says the US Department of Justice (DOJ) on 16 December.
The DOJ first levied anti-trust charges against former P&W employee Mahesh Patel on 7 December. It has now expanded the case to also include charges against five people who worked at companies that supply the Connecticut engine maker.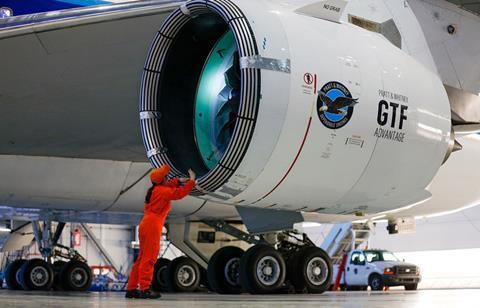 The executives conspired to "suppress competition by allocating employees in the aerospace industry – specifically by agreeing to restrict the hiring and recruiting of engineers and other skilled-labour employees", says the indictment.
The executives sought to reduce "the rise in labour costs that would occur when aerospace workers were free to find new employment in a competitive environment".
The indictment does not name Pratt & Whitney, but other court papers and LinkedIn.com make clear that Patel had been an aerospace engineering outsourcing executive at the engine maker.
The five other indicted executives include Robert Harvey, Harpreet Wasan, Steven Houghtaling, Tom Edwards and Gary Prus. The indictment does not name their employers, but people with those names worked at engineering firms Quest Global Services, Belcan Engineering Group, Cyient and Parametric Solutions, according to a related suit and to LinkedIn.
Neither P&W nor the suppliers responded to requests for comment.
The government filed the indictment on 15 December in US District Court for the District of Connecticut.
Former P&W staffer Patel led the conspiracy, which lasted from at least 2011 to 2019. One of the executives, in an email, described the companies' deal as a "no poaching" agreement, DOJ alleges.
"This indictment is the first in an ongoing investigation into labour market allocation in the aerospace engineering services industry," DOJ says.