A US judge has tossed out Go First's lawsuit against Pratt & Whitney (P&W) after a Singapore arbitration body overturned an earlier order.
Go First had sued P&W in US federal order in April, asking a judge to require the company to abide by what had been an interim decision by the Singapore International Arbitration Centre (SIAC).
The airline in March had filed with the SIAC for relief, alleging that defective PW1100Gs had forced it to ground half its 54 A320neo-family jets.
The SIAC initially sided with the airline. In interim decisions in March and April, it ordered P&W to supply Go First with some 90 spare PW1100G engines this year.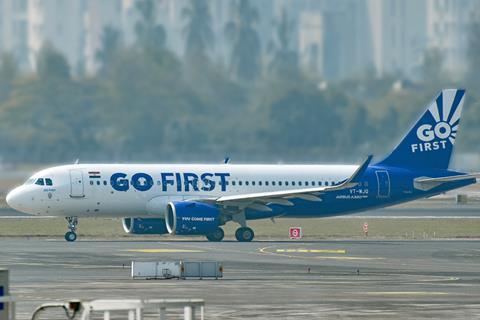 But on 27 July, US Judge Laura Hatcher denied Go First's suit after learning that an SIAC tribunal had overturned its interim decisions. Hatcher calls Go First's suit "moot" now that "the tribunal vacated the awards".
P&W declines to comment, saying the order "speaks for itself". Neither Go First nor its attorney immediately responded to requests for comment.
The dispute involves what Go First alleges to be significant PW1100G engine problems. The airline told the SIAC that the engines are defective and are significantly less durable than expected.
Numerous other airlines have reported PW1100G durability problems in recent months. Airline executives have also lamented P&W for lacking sufficient maintenance capacity to address problems. Engines operating in hot and dusty regions have reportedly been most effected.
The problems forced Go First to remove 510 PW1100Gs from its jets, devastated its operation and pushed it into financial distress, the airline told the arbitrator. On 2 May, Go First suspended all flights, and soon after filed for bankruptcy protection.
The SIAC's initial interim ruling required P&W "take all reasonable steps" to send Go First with 10 spare engines monthly through year-end – some 90 in total.
But papers filed in US court reveal that those terms have since changed.
On 11 May, P&W filed a challenge with the SIAC, saying the interim orders exceeded its contractual obligations to Go First. P&W also called Go First a "chronic defaulter" and expressed doubt that the airline will be able to make payments on engines it sends to the carrier.
"It [is] unjust and inequitable for [P&W] to be compelled to send valuable engines or perform maintenance services to a company on the brink of insolvency (and now insolvent) in circumstances where there is a high likelihood that [P&W] will never be paid," its opposition said.
Those details were included in the SIAC's revised arbitration decision, dated 5 July. P&W filed a redacted copy of that document with the court.
The revised decision struck down the previous terms, saying that P&W sending 90 engines to Go First "does not appear to accurately reflect the current circumstances and the availability of engines".
It also notes that Go First's plan to reboot operations calls for it to initially operate 26 A320neo-family jets. The airline had requested "at least 46 spare" PW1100Gs to operate such a fleet – a request the SIAC now calls "unrealistic".
The SIAC is still requiring P&W to send equipment to Go First "without delay", but details about that equipment have been redacted.
Additionally, the SIAC has now required Go First to ensure, should it be forced into liquidation, that debts to P&W "will rank the highest priority in repayment".
Several days ago, the Indian government approved a Go First plan to resume flying – if the carrier secures "required interim funding" and proves its airworthiness compliance. Meanwhile, lessors have been seeking to repossess the airline's aircraft.
On 25 July, P&W reported a $181 million charge against its second-quarter financial results due to a "customer insolvency". The company declines to name the customer.