US company Wright Electric has proven that its electric motor-generator can produce 1MW of power, supporting its development of an electric-modified BAE 146 regional jet project.
The company says on 19 June during the Paris air show that it achieved the power-output goal during tests. Wright calls its conceptual electric-modified BAE 146 "Wright Spirit".
"Achieving 1MW, specifically 1MW of shaft power, is an important step in reaching Wright's goal of making all single-aisle flights under 800 miles zero emissions," says Wright chief executive Jeff Engler. "Commercial-class airplanes need megawatt-sized propulsion systems for a full passenger load take off."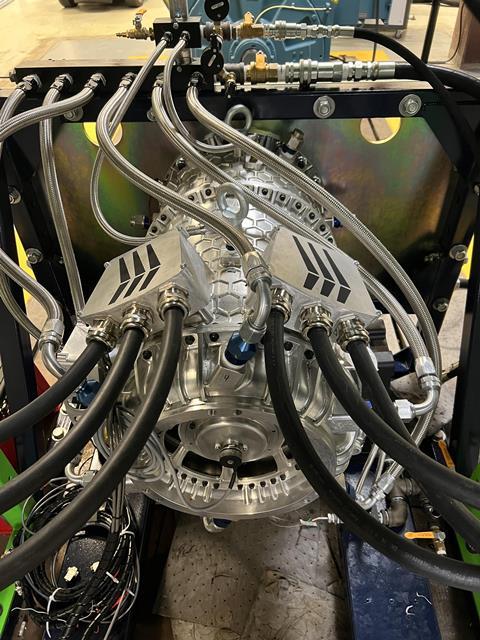 Wright's project involves using its electric systems to replace the four Lycoming ALF502 turbofans on BAE 146s. The company, with offices in New York state, has said Wright Spirit will carry up to 100 passengers and have about 1h of flight duration.
It has previously laid out a timeline calling for it to complete first flight this year of a BAE 146 equipped with one of its electric systems, followed in 2024 with flight tests of the aircraft with two electric systems.
Wright plans in late 2023 or early 2024 to test its electric equipment in an "altitude chamber" at the NASA Electric Aircraft Testbed facility. There, it can evaluate how the technology performs at high altitudes, "which can cause short circuiting and electromagnetic interference".
The company says: "Wright's propulsion system is specifically designed to operate at 40,000ft, so the future aircraft can mimic the operations of a typical airplane."
Wright is pursuing a similar project to one since cancelled by Airbus and Rolls-Royce. Those companies had been developing a hybrid-electric BAE 146 modification under their E-Fan X programme, which they nixed in 2020, early during the Covid-19 crisis.