Advanced propulsion developer ZeroAvia will launch its 600kW ZA600 hydrogen fuel cell powertrain on one of four previously disclosed aircraft types, although the firm is staying tight-lipped on the exact selection.
ZeroAvia recently unveiled an agreement with zero-emission lessor Monte Aircraft Leasing covering the purchase of 100 ZA600 powertrains. These will equip new or used single-engined Cessna Caravans, plus twin-engined De Havilland Canada DHC-6 Twin Otters, Dornier 228s and HAL-228s, with retrofit activities set to begin in 2024.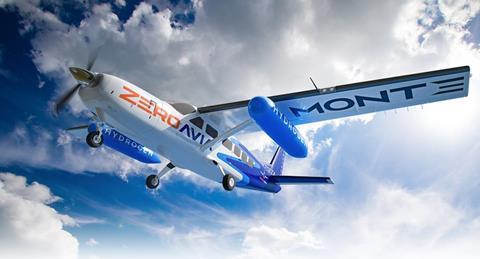 James McMicking, vice-president of strategy at ZeroAvia, confirms that the launch platform is among those four turboprop types; it has been selected but not disclosed, he says. The image accompanying the Monte press release shows a Cessna Caravan with added underwing hydrogen tanks.
McMicking says the four types listed should yield broad appeal in the market for sub-regional aircraft with up to 19 seats. "We want that first product [the ZA600] to cater to as much of the market as possible," he says.
First flight of the ZA600 will be aboard a Do 228 (G-HFZA) which ZeroAvia is modifying at its UK development facility at Cotswold airport near Kemble in southwest England.
That delayed milestone will be in "a matter of weeks rather than months", says McMicking; the company aims to begin taxi tests shortly as it seeks sign off for the sortie from the UK Civil Aviation Authority.
The Do 228 will fly in an "experimental configuration" with the motor in place of the aircraft's port-side Honeywell TPE331 turboprop engine and the stock powerplant remaining on the opposite side. The fuel cell and cooling systems, and gaseous hydrogen tank, plus back-up batteries, are housed inside the rear fuselage.
For the certifiable version, those elements, save for the external hydrogen tanks - and batteries, which should be eliminated – will eventually be condensed into a more compact form, for example fitting into a longer nacelle on the Do 228.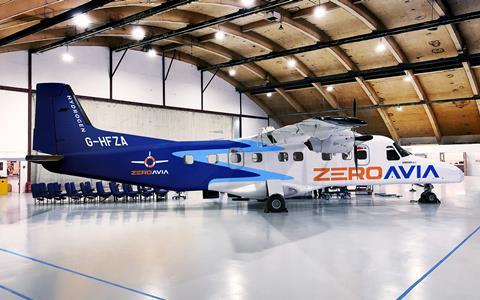 However, even with a more compact design, using current technology McMicking sees two or three seats lost from a 19-seater, and range cut to 250-300nm (463-555km). Nonetheless, he believes this will still offer performance that is "commercially useful" given the claimed improvements to operating economics and the low noise and greenhouse emissions.
ZeroAvia has previously given the impression that the Do 228 would eventually fly on full hydrogen-electric power: for example, the release announcing the Monte agreement states that "the testing programme will then sequentially move to full hydrogen-electric flight".
However, McMicking says this will depend on which type is selected to enter service first, as the optimisation of the powertrain "will be driven by the launch aircraft". The goal of the UK government-funded HyFlyer II programme under which the ZA600 is being developed is to deliver a certifiable hydrogen-electric powertrain, he notes, and as such, the Do 228 should be considered akin to the flying testbeds operated by the major engine manufacturers.
Depending on the identity of the launch aircraft, an additional test airframe may be required for integration work, McMicking says.
As well as the Do 228 test article located at Kemble, ZeroAvia is creating a "carbon copy" of the aircraft at its site in Hollister, California. This will both increase test capacity and serve as a demonstrator for the crucial US market.
With ZeroAvia increasing its presence at Kemble – around 100 of the firm's total 170 staff are at the site – the company is currently analysing where to locate its initial production facility. That decision needs to be "within 12 months", says McMicking, in to be able to establish its supply chain and the manufacturing process in line the company's certification and service-entry target of late 2024.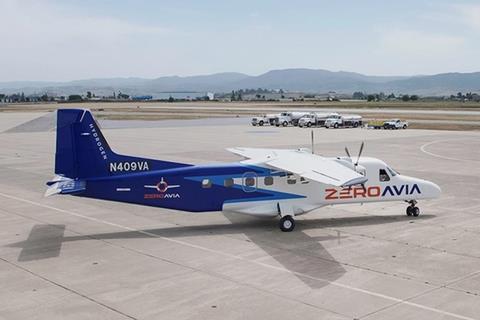 McMicking says it is "thinking very hard about the UK" as a manufacturing location and exploring different avenues of potential support with the government.
In addition to the Hollister facility, ZeroAvia has a site at Paine Field in Seattle: "We are thinking about how we might use that site as part of our production or retrofit activity," he says.
ZeroAvia continues to liaise with the CAA to establish the certification basis for the powertrain's fuel cell system; electric motors are already covered by separate regulatory agreements such as the European Union Aviation Safety Agency's Special Conditions E-19 rules.
Further out, ZeroAvia is already developing a 2-5MW-rated system, the ZA2000, designed to power regional aircraft like the ATR 42/72 and De Havilland Canada Dash 8-400 from 2026. This will be followed by the ZA2000-RJ for regional jet applications in the latter part of the decade. Ultimately, it hopes to power a narrowbody-sized aircraft, but this will require a clean-sheet design, McMicking says.
ZeroAvia has already struck agreements with De Havilland Canada and MHI RJ Aviation – which owns the type certificates for CRJ-family jets – but has yet to announce a similar agreement with ATR, despite already having secured a customer for its retrofit solution.
McMicking offers a non-committal shrug when asked if it is working with ATR, however. "We are talking to a lot of OEMs in the industry, let's just say that," he adds.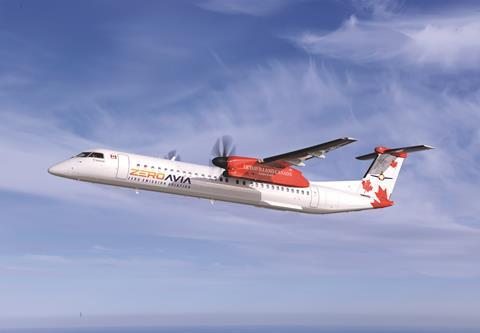 The viability of those higher power systems is in part dependant on the predicted improvements available from the next-generation of fuel cell technology. In addition, a shift to liquid hydrogen is also required for larger aircraft, with the fuel tanks likely moving inside the fuselage.
Potential configurations for the regional jet are still under evaluation, including open rotor or ducted fan designs. McMicking says it would look to partner with specialists in those areas for its overall system: "We provide power to a shaft," he says.
On top of the aircraft hardware, ZeroAvia is also developing at Kemble a proof of concept hydrogen production and refuelling system that transports gaseous hydrogen produced on site to a line leading airside where it can be delivered to the aircraft.
While hydrogen remains more costly than jet fuel at present – even with the current high price of oil – McMicking sees a clear pathway to bring it down and to achieve parity within five years, particularly when the cost of carbon emissions and the high cost of drop-in SAF is factored in. "Eventually the economics will drive the industry towards hydrogen," he adds.
McMicking joined ZeroAvia in November last year, having previously held the position of chief strategy officer at the Aerospace Technology Institute. That body is part funding the HyFlyer II programme, awarding a £12.3 million ($15.1 million) grant in December 2020, which will be matched by the company and its partners.

Dominic Perry is deputy editor of Flight International but also contributes extensively to flightglobal.com. Although specialising in the coverage of the helicopter industry, he has written on most topics in aerospace – be they commercial, defence or business aviation. In addition, there has been an increasing focus on the decarbonisation of the industry and zero-emission flight initiatives.