First flight of a Dornier 228 converted to run on hydrogen-electric power by ZeroAvia has slipped into 2022, although the advanced propulsion developer is confident in the progress it is making, with the installed system powered up for the first time on 22 December.
ZeroAvia had hoped the modified Do 228's maiden sortie would take place before year-end from its facility at Cotswold airport in the UK.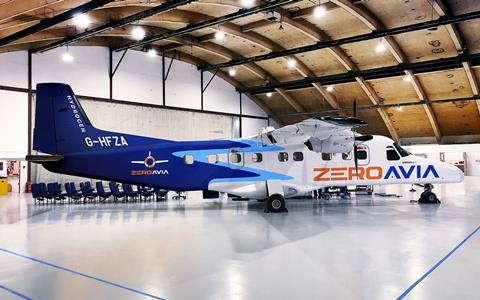 But that milestone has now been pushed to the middle of the first quarter of 2022. Nonetheless ZeroAvia highlights the "significant progress" it is making.
"We have installed the hydrogen-electric powertrain for the initial flight testing (in a hybrid configuration with supplemental battery power). Ground testing has already begun with the first propeller spin on 22 December," it says.
Conversion of the twin-turboprop – an airframe previously operated by Channel Island carrier Aurigny – is being carried out under the UK government-funded HyFlyer II programme, which aims to demonstrate a 300nm (555km) flight of a hydrogen-powered 19-seater.
For the initial flight, the Do 228 (G-HFZA) will retain one of its Honeywell TPE331 turboprop engines, with ZeroAvia's 600kW ZA600 hybrid hydrogen-electric/battery system installed on the opposite wing.
But as test flights ramp up, that configuration will change. "Over the course of the next year, we will progress step by step to a hydrogen fuel cell-powered flight, with our hydrogen-electric powertrain powering both engines," says ZeroAvia.
Meanwhile, a second Do 228 for conversion will arrive at the company's site in Hollister, California in the first quarter. That aircraft has been purchased and will shortly be repainted, says ZeroAvia.
Certification of the ZA600 powertrain will be conducted by the UK Civil Aviation Authority, with concurrent filing with European and US regulators.
No decision has been taken on the launch airframe for the system, although ZeroAvia says it has "prioritised" several candidates will make a final selection soon.
"Whichever airframe we choose to prioritise, we have clear pathways for [service entry] by 2024," it says.
Work is also continuing on development of a larger propulsion system, the 2MW-class ZA2000, which will equip regional turboprops like the ATR 42/72 series and the De Havilland Canada Dash 8-400.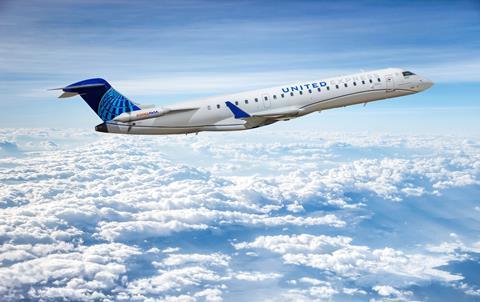 Turboprop conversions should be ready for service entry by 2027, and a system for regional jets should follow in 2028. Development timelines for those programmes should be updated next year, says ZeroAvia.
Announcing its plans to convert Bombardier CRJ550 regional jets to hydrogen-electric power for United Airlines, ZeroAvia revealed images showing what appeared to be a pusher propeller or open fan system installed in place of the aircraft's GE Aviation CF34 turbofans.
However, ZeroAvia says that image shows "an illustrative rendering, not the final design".
One of the conversion challenges on the CRJ550 would appear to be its rear-mounted engines, which have a maximum diameter of 1.3m (54in). Comparatively, the propeller on an ATR turboprop has a diameter of 3.93m.
ZeroAvia in October signed a pact with MHI RJ Aviation – which acquired the CRJ programme from Bombardier – to collaborate on the design of a hydrogen-electric propulsion system for regional jets.