Boeing has no intention of letting the coronavirus downturn sideline its 2020 ecoDemonstrator programme.
Covid-19 aside, the Chicago-based airframer plans later this year to roll out its latest ecoDemonstrator – an Etihad Airways-bound 787-10.
The company and several partners will use the jet to complete a 2020 ecoDemonstrator programme that will include evaluation of aircraft noise in flight, and of landing gear fairings intended to quiet the flow of air around a jet's gear.
Engineers will also use the 787 to trial technology that digitally transfers air traffic control (ATC) routings to jets, helping improve flight efficiency.
Boeing disclosed details of its 2020 ecoDemonstrator programme on the first day of FIA Connect – the virtual event replacing the Farnborough air show, which organisers cancelled due to the pandemic.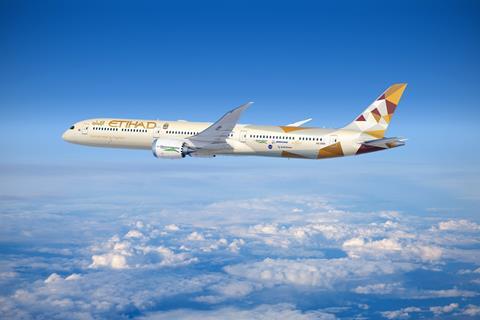 Boeing intends to conduct the 787 ecoDemonstrator tests in August and September, primarily from its Glasgow, Montana facility.
Launched in 2010, the EcoDemonstrator programme evaluates new aircraft technologies – many related to safety and efficiency – using passenger and cargo jets, and in partnership with industry and government.
Since a first ecoDemonstrator flight in 2012, Boeing has used six jets to evaluate more than 165 technologies. Those have included winglets, vortex generators, clear-air-turbulence detectors, cabin equipment, cockpit touch screens, wireless sensors, surface collision-avoidance systems and wing coatings.
Past demonstrators have included a Boeing-owned 777-200 pressed into testing duty in 2019, a FedEx 777 Freighter used in 2018, an Embraer-owned E170 put to work in 2016, a 757 owned by a division of investment company Stifel used in 2015, a Boeing-owned 787-8 in 2014 and an American Airlines 737-800 in 2012.
"We take promising technologies out of the lab and we put them onto an airplane and we test them in a real environment," says Boeing ecoDemonstrator programme chief engineer Rae Lutters.
Next up, the seventh demonstrator: a shiny new, still-incomplete 787-10 that Boeing will use prior to handing over to Abu Dhabi-based Etihad.
The airline calls the ecoDemonstrator programme a "unique opportunity to lead the aviation industry's drive for a sustainable future". It says the effort reflects Etihad's dedication, even amid the pandemic, to improving aircraft efficiency and reducing aircraft noise.
Owing to the troubled state of the virus-ravaged aerospace industry, the 2020 ecoDemonstrator programme will be less-expansive than in previous years, with tests lasting several days, says ecoDemonstrator programme technical leader Doug Christensen.
But the fact that Boeing is investing in the 2020 programme demonstrates its commitment to making aviation safer and cleaner, executives say.
Boeing expects the 787 will leave its North Charleston, South Carolina final assembly facility in the coming weeks.
The jet will be flown in mid-August to the Montana site for test flights expected to occur from 26-30 August, says Christensen.
In September, Boeing will fly the jet back to South Carolina, and deliver it to Etihad late that month.
NOISE-HUSHING GEAR FAIRINGS
Much of this year's tests will involve aircraft noise and noise-mitigation fairings.
First, in partnership with NASA, engineers will perform flights for the purpose of mapping the 787's noise signature.
The jet will be outfitted with 222 "dynamic pressure sensors", included 214 attached to the fuselage and eight on the Safran-made landing gear, Boeing says.
Using those sensors, and an array of 1,006 additional microphones on the ground, the team will examine the 787's noise during flight.
"It basically provides a mapping of the noise sources on the airplane," says Christensen, adding that the team will be able to pinpoint exactly where noises originate on the aircraft.
He says the tests align closely with NASA's aerospace noise research efforts, and will help improve models used to predict aircraft noise.
After engineers measure the 787's baseline sound, Boeing, in partnership with Safran Landing Systems, will evaluate Safran's "low-noise landing gear fairings".
The 787 will get "simple airfoil-shaped fairings" over its main landing gears and "perforated and solid mesh fairings" over its nose gear. Engineers will then evaluate the impact of the fairings on the jet's noise in flight with its gear down, says Boeing ecoDemonstrator airplane platform manager Al Creek.
Safran says: "Most landing gear noise is produced through the shedding of vortices across bluff bodies, while tonal noise is generated by resonances in open cavities. Small components and sharp edges can lead to high-frequency noise, which can result in a higher annoyance to listeners."
Safran's main-gear fairing aims to reduce "vortex shedding" from side and drag braces.
The nose-gear fairing reduces "local air flow velocity around areas which are geometrically complex and contain a number of sharp edges".
"This shield, comprised of a solid frame with porous screening, is closely fitted around the steering valves and actuators, and must provide clearance for the steering actuators, which move as the nose landing gear steers," says Safran. "The porous structure causes a local pressure drop, reducing the speed of the flow field behind the shield, significantly reducing the noise generated by the complex geometry of the nose gear in the shielded area."
Safran faces the challenge of ensuring the fairings do not affect the retraction or use of the gear, or require significant maintenance, it adds.
Boeing's ecoDemonstrator tests will help determine the feasibility of the fairings both for use on 787s and other aircraft, Boeing says.
"We know engines and fuselage are quite quiet, but, on approach, we find that landing gear is one of the biggest contributors" to noise, Creek says. "If it works out, Safran, we anticipate, will figure out a way to work those [fairings] into the airplane."
By reducing noise, such fairings could also help airlines pay lower airport landing fees, which can be based on aircraft noise, says Boeing.
NEXTGEN ATC TECH
In addition to noise studies, Boeing and the Federal Aviation Administration will use the 787 ecoDemonstrator to test ATC digital data transfer technology – systems intended to help save fuel by making aircraft routing more efficient.
The technology replaces voice communications, allowing flight routing and related data to transfer digitally from ATC systems to aircraft (even directly to aircraft flight management computers) and to airlines' operations centres, says Creek.
Part of the FAA's NextGen ATC modernisation effort, the data transfer technology can improve routing efficiencies and help controllers better manage air traffic in four dimensions: latitude, longitude, altitude and time, according to FAA documents.
Such systems can also help reduce crew workload and prevent errors, Boeing says.
The ecoDemonstrator team will test the ATC technology while flying the aircraft from South Carolina to Montana, and back. Additionally, Boeing adds that the 787 will burn a sustainable fuel blend while conducting ecoDemonstrator flights.
Etihad has particular interest in improved aircraft routing, noting that in March it operated a flight to Dublin and back using an "optimised route profile" that saved 40min in flight time and 800kg (1,760lb) of fuel.
Boeing is already planning its 2021 and 2022 ecoDemonstrator programmes. Though the company has not disclosed details, Christensen says efforts will likely include evaluation of "lightweight, additive-manufactured parts" and technologies that will help the industry shift toward "more-electric" aircraft.