The coronavirus pandemic is driving up demand for specialised variants of Bombardier's business jets, particularly for medevac-configured aircraft, the company says.
The bump in demand comes as countries globally see value in aircraft capable of evacuating and repatriating citizens stuck overseas, such as has occurred amid the Covid-19 outbreak, says Steve Patrick, vice-president of Bombardier Specialized Aircraft.
"The market is quite strong and growing," Patrick tells FlightGlobal. "I'm looking at expanding my team size and growing the business this year [and] next year."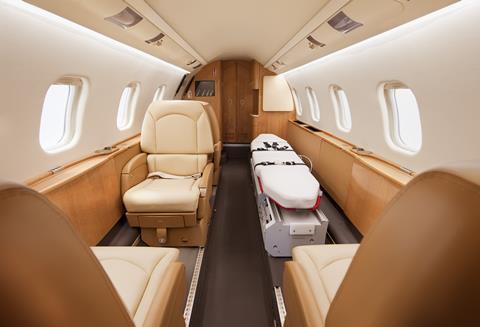 Patrick spoke ahead of a special-mission-aircraft discussion scheduled for 22 July during FIA Connect, the virtual show that replaced this year's Farnborough air show.
He adds that Bombardier sees heightened special-mission potential for its flagship line of long-range, large-cabin Global business jets.
"The current situation is definitely driving the medevac" demand, he says. "We are starting to become a more-dominant contributor to the company's operations."
Patrick declines to divulge Bombardier Specialized Aircraft's annual sales. The unit reports into Bombardier's larger aviation business, has about 100 staff and is based in Wichita, home to a specialised-aircraft engineering and operations center and to Bombardier-owned Learjet.
Patrick's team receives support from Bombardier's Montreal headquarters. And though the specialised-jet business performs engineering and conversion work in house, it also relies on third-party aerospace companies to complete projects.
The division sells special cabin configurations for Bombardier's three lines of aircraft, all of them business jets: light–category Learjet 75s, super-midsize Challengers, and Globals.
Available configurations include those for medevac, maritime surveillance, reconnaissance, search and rescue, and head-of-state transport.
The manufacturer used to sell specialised variants of the Dash 8 passenger turboprop, though it sold that programme to Canada's Longview Aviation Capital last year.
Bombardier this year also updated its specialised-aircraft website in an effort to highlight the jets' capabilities and to better distinguish them from the business aircraft on which they are based.
Bombardier has not announced new special-aircraft sales so far during FIA Connect.
But, as an example of heightened demand, Patrick notes Finnish operator Jetflite deployed a newly-delivered Challenger 650 on a whirlwind citizen-repatriation tour this year amid the pandemic.
That jet logged its first 100h of flight in 14 days, and in one five-day stretch landed in 10 countries on three continents, Bombardier says. The 650's 12-16-passenger executive-transport cabin can be quickly configured into an air ambulance capable of carrying two stretchers and a "portable isolation unit", among other equipment.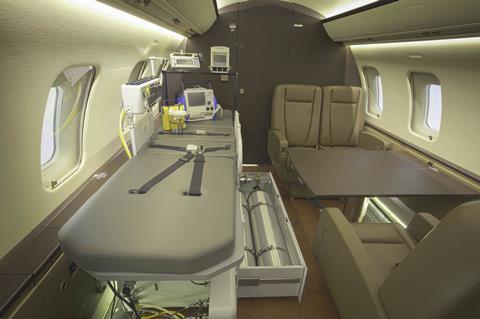 Also, in January, Bombardier sold two Learjet 75 Liberty to North Dakota-based Fargo Jet Center, which is converting them to air ambulances for delivery to Polish operator Lotnicze Pogotowie Ratunkowe.
Patrick says the pandemic has bumped up the need for "role change" cabins that, within hours, can be modified from executive transports to medevacs.
"The sudden uptick in demand because of the pandemic is making the traditional operators look at that role change," he says.
He also sees heightened need for "purpose-built" medevac aircraft – those with cabins designed specifically as air ambulances. Such jets can carry advanced medical equipment and systems, like supplemental oxygen and backup electric power.
"We are also seeing interest in a more purpose-build medevac configuration in the Global," Patrick adds.
The Globals' large cabins and extreme range – up to 7,700nm (14,300km) for Global 7500s – make that line of jets ideal for evacuating patients from distant countries, he says.
"That's one of those areas that we can see some future possibilities," Patrick says. "The emerging interest is from existing operators, but there are some prospects for new sales from new customers."
The company has not yet sold such purpose-built Globals, but Patrick says customers – including in North America – have expressed interest. He declines to disclose names.
Additionally, Patrick says an uptick in economic-stimulus spending by governments could bump up demand for various types of Bombardier's specialised jets.