The disinfection of aircraft has added at least 20 minutes to turnaround times for Air Baltic's Airbus A220-300 fleet, according to the carrier's chief executive.
Speaking during an FIA Connect session on 20 July, Martin Gauss explained that Air Baltic is "technically" flying 11 aircraft today, "but we use 16 for it".
"One of the reasons is that we have a minimum turnaround time now of 60 minutes because of the disinfection," he states.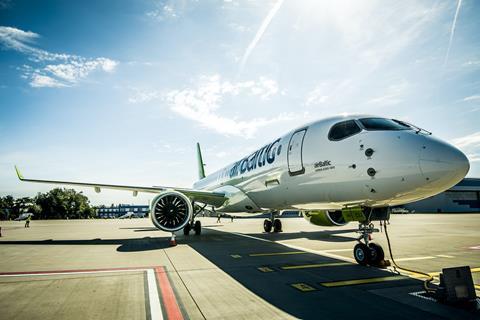 The airline – which operates a hybrid model featuring ultra-low-cost economy seating and a small business-class area at the front of the cabin – confirms that its pre-coronavirus average turnaround time was 40 minutes.
As a result, "utilisation is nowhere [near] where it should be", says Gauss.
"That is one of the prices you have to pay for that kind of an operation."
Announcing new onboard health measures in mid-May as it moved to restart operations, Air Baltic said that "the aircraft cabin disinfection will be done with increased regularity", while passengers would be "provided with a complimentary basic care kit consisting of a protective face mask and disinfection wipes". Crew members are required to wear a protective face mask and gloves.
During the same FIA Connect session, Gauss stated that Air Baltic is bringing one of its Airbus A220s back into service every week as it ramps up operations.
He also expressed optimism that his airline and the wider industry would recover, but said a cautious approach was required as services are reintroduced.