The Eurofighter industry consortium remains on course to deliver a broad-ranging "menu" of capability options to its core partner nations before year-end to inform their decisions on the type's long-term evolution (LTE) path.
"We have done a lot of technical definition work with the customers, giving them a range of options," Paul Smith, Typhoon operational requirements manager for Eurofighter partner company BAE Systems Air, tells FlightGlobal. These range from performing a technical refresh of the Typhoon's current capabilities to a full update, replacing the type's entire avionics and system architecture.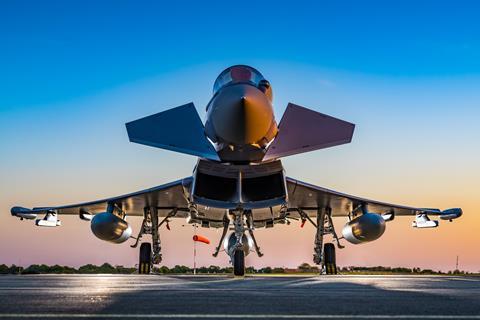 Smith says industry expects programme partners Germany, Italy, Spain and the UK to instead opt for a middle option. "The gist is a very large-area display, with no HUD [head-up display], fully utilising the [BAE] Striker II helmet, and refreshing the communications and data storage and high-speed data networks, improving the ability to share and move data rapidly."
Engine and flight-control system enhancements could seek to boost the fuel-efficiency of the type's Eurojet EJ200 turbofans, in conjunction with the use of an aerodynamic modification kit.
Additionally, the use of one- or two-dimensional thrust-vectoring nozzles could deliver handling benefits while carrying asymmetric heavy stores and during high angle-of-attack flight, and also improve short-field take-off and landing while reducing wear for operators in hot environments. Typhoon export customers include Oman, Kuwait, Qatar and Saudi Arabia.
Other benefits of the LTE package will include increased flexibility in weapons release sequencing, as a result of flight-control software updates, and the ability to more rapidly integrate new stores. Planned future additions include the Anglo-French MBDA future cruise/anti-ship weapon and the same company's Spear-EW electronic-attack missile, and what Smith refers to as other "novel effectors".
Eurofighter was awarded a roughly 18-month study-phase contract for the LTE activity in mid-2018, and is due to deliver its proposals within the coming months.
"We are getting a better feel for what the nations want, and are looking for a decision gate by the end of the year to downselect the core capabilities that are going to be front and centre in LTE," says Smith. Some aspects – such as any thrust-vectoring control enhancement – could be an option adopted by only one or two users, he notes.
Embodiment of the LTE updates on in-service aircraft is expected to start in the 2026-2027 timeframe, Smith says. The partner companies are already exploring whether such modifications could be performed as Eurofighter nations conduct other scheduled work, such as integrating active electronically scanned array radars as part of broader enhancements to the type.
"What we're trying to do is maximise the availability of the aircraft and rationalise any future return-to-works programme," Smith says.
He adds that in addition to updating Typhoon's capabilities, such enhancements are also "A means to prove a lot of the underpinning technologies" for the UK's BAE-led Tempest future combat air system project, including areas such as the use of an open mission systems architecture.