There is widespread agreement that aviation needs to become more sustainable, but some problems lie in identifying the best way to get there, participants in a high-level panel discussion indicated today.
"There won't be one single solution, one silver bullet," Tony Douglas, chief executive of Etihad Aviation Group, said during a sustainability debate hosted by FIA Connect.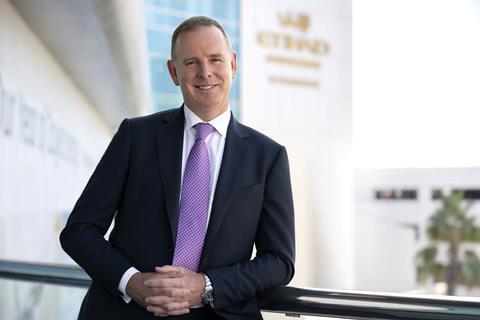 Douglas cites the work his carrier is doing with the Abu Dhabi National Oil Company (ADNOC) to develop a biofuel additive to improve the sustainability of jet fuel. While they have had success in developing a suitable plant that "grows in saltwater where nothing grows" – such as in the extreme heat around Abu Dhabi – the economics of doing this are not yet at breakeven levels.
As with many projects, it requires further government support to become viable.
There are also, Douglas notes, lower-hanging fruit that can be harvested in the battle against climate change. "We must get smarter in how we use our airspace," he says, describing the current system as being "almost set down by the Romans… There's far too much fuel being burnt for all the wrong reasons."
The gains to be had here are potentially huge, Douglas stresses. He notes that when Etihad set out to streamline its operations from Abu Dhabi to Dublin, by for example optimising the route and deploying fuel-saving techniques such as continuous ascent and descent, it enabled the carrier to reduce its flying time by 40min and saved 3t of CO2.
His enthusiasm for smarter-regulated airspace is shared by others in the industry who have for years bemoaned the lack of progress on projects such as the Single European Sky, which has become bogged-down in competing national interests between EU member states.
Another panellist, UK secretary of state for transport Grant Shapps, highlights the latest Air Traffic Management Bill which has been working through the country's legislative system and is intended to address this exact point.
The bill promotes the use of relatively simple technologies to alert aircraft to slow down before entering UK airspace during congested periods, thereby minimising the amount of excess fuel they use and CO2 they emit. Shapps describes the current system of air traffic management as "archaic", pointing out that it was built for older, noisier aircraft with difference performance characteristics, as well as much emptier skies.
Shapps emphasises that many other measures that will be needed for the industry's carbon targets to be hit.
Paul Stein, chief technology officer at Rolls-Royce, meanwhile touted the engine maker's plan to deploy a small modular nuclear reactor to produce synthetic aviation fuel.
But while the wealth of projects being explored by companies around the world shows a healthy ecosystem of competing ideas, it also underlines the fragmentation of the global system. "The world needs a co-ordinated view towards this regulation," says Stein. There is a "political job to be done on getting the world aligned on a regulatory front", he argues, as this would allow new technologies to be deployed globally.
The debate served as a reminder that even while the coronavirus is dominating the industry's thoughts, the sustainability issue has not gone away.
Douglas says of Covid-19: "It's going to be an absolute fight for survival", one which will result in a "seismic shape change to the way our industry goes forward".
He adds: "Those that do have an opportunity to go forward… will have to maintain the drive on sustainability."